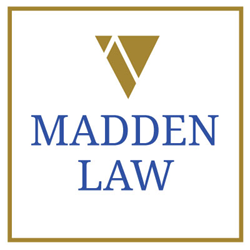 "Big fees and inefficiency are difficult for big firms to avoid because of their pyramid staffing and fee structure. Instead, Madden Law uses a variable and practical approach to ensure that fees are appropriate to the engagement." ~ Jerry Madden
Washington, D.C. (PRWEB) January 18, 2017
Combining Big Law experience with small firm attention and fees, Jerry Madden is pleased to announce the opening of Madden Law PLLC, a boutique appellate practice in Washington, D.C. Joining Jerry at the firm are seasoned litigators Virginia Whitner Hoptman and Charles Rowan.
Jerry, Virginia and Charlie each have more than 25 years of civil trial and/or appellate experience. Madden Law will focus primarily on appellate litigation before the Supreme Court of the United States, all thirteen federal circuit courts of appeals, and the appellate courts of the District of Columbia, Virginia, Maryland, and Ohio. The firm will represent clients at the administrative and trial levels in selected cases.
Jerry, Virginia and Charlie have strong substantive backgrounds in high stakes or high profile complex cases including business tort, contract, fraud, professional malpractice and consumer financial protection cases. Jerry also has deep experience in suits brought by or against the United States and its agencies, including claims under the Federal Tort Claims Act, actions filed in the United States Court of Federal Claims under the Tucker Act (contract and Fifth Amendment cases), and cases involving the Administrative Procedure Act. In addition, Jerry has developed specialized expertise in cases related to financial regulatory and enforcement matters involving financial institutions and affiliated individuals, bank receivership law, securities litigation, the Dodd Frank Act, and financial institution golden parachute law.
Madden Law's affiliation with Virginia and Charlie provides its clients with access to strong alternative dispute resolution expertise as well. They founded Beyond Conflict, which helps organizations plan for conflict and prevent and resolve disputes.
The firm, located on Pennsylvania Avenue, shuns the traditional hierarchical approach to practicing law. "Big fees and inefficiency are difficult for big firms to avoid because of their pyramid staffing and fee structure. Charlie and I observed that challenge firsthand when we began practicing law together as associates at an Am Law 100 firm in the 1980s. Instead, Madden Law uses a variable and practical approach to fee arrangements to ensure that fees are appropriate to the engagement, favoring fixed-fee, hybrid fixed or contingency-fee arrangements to more closely align the interests of clients and the firm," Jerry Madden said.
"Madden Law looks forward to engaging with in-house counsel who desire a fresh look at a trial-court result and/or desire to more closely align their organization's interest with those of its outside counsel. The firm will collaborate with law firms that focus exclusively on trial work or who seek occasional assistance briefing unique or complex issues of law at the trial level. In addition, Madden Law will handle suits for its clients against or by the United States or its federal agencies, particularly, but not exclusively, those related to financial institution regulation," he added.
Read Madden Law's initial blog post: An Inspiration to Serve.