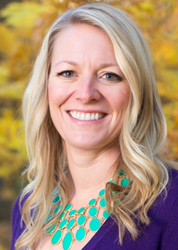 Madison, WI (PRWEB) January 16, 2017
New patients with missing teeth in Madison, WI, can now receive quality dental implants from Dr. Angela Cotey, with or without a referral, at her state-of-the-art dental practice in Mt. Horeb, WI. Dr. Cotey utilizes cutting-edge guided implant placement technology to ensure accurate and effective treatment for long-term success. Patients in need of a permanent tooth replacement solution as an alternative to dentures are invited to find out if they qualify for dental implant placement.
Dr. Cotey encourages patients with missing teeth in Madison, WI, to consider receiving the new gold standard in tooth replacement, dental implants. Unlike other common treatment methods for missing teeth, implants are convincingly natural in appearance and provide strength and durability comparable to natural teeth. This durability is due to the implant's placement directly in the jaw bone and the strength of each titanium post. Dental implants also stimulate jaw bone growth and prevent deterioration that typically occurs after a tooth has been lost. If it is not prevented, jaw bone loss can cause the teeth in the mouth to shift and can impact a patient's facial structure and appearance.
Dr. Cotey utilizes advanced Cone Beam CT 3D imaging technology to enhance each implant placement treatment planning process. Combining precise images of a patient's oral structures into a 3D model, allows Dr. Cotey to form a deeper understanding of each patient, increasing long-term success. Ensuring accurate placement, using this CBCT imaging technology also decreases post-surgical complications. Once effectively placed and cared for through healthy dental hygiene routines, patients can expect dental implants to last a lifetime.
Dr. Cotey invites patients with missing teeth in Madison, WI, to discover how comfortable, reliable and natural-looking dental implants can be. To schedule an appointment with the respected dentist, patients are invited to call Village Smile Care at 608-433-2102 or visit their website at http://www.villagesmilecare.com for more information on implant solutions.
About the Doctor
Dr. Angela Cotey is a general dentist offering personalized dental care to patients in Mount Horeb, WI. Dr. Cotey and her entire team take pride in offering the latest advancements in dentistry and dental technology to ensure each patient enjoys a comfortable experience with long-lasting results. Dr. Cotey combines advanced dentistry with a fun and friendly style. She is a member of numerous professional organizations including the American Dental Association, the Wisconsin Dental Association, American Academy of Cosmetic Dentistry, Fellow in the Academy of General Dentistry and current President of the Wisconsin Dental Study Club and Madison Dental Progress Forum. To learn more about Dr. Cotey or the services she offers, please visit her website at http://www.villagesmilecare.com or call (608) 433-2102 to schedule an appointment.