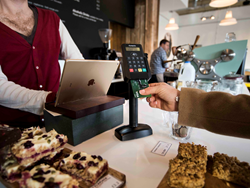 Handpoint's new express integration enables ISVs and merchants using cloud-based systems to have semi-integrated mobile EMV with P2PE.
Palo Alto, California (PRWEB) January 16, 2017
With today's competitive and evolving retail landscape, Handpoint is proud to announce its expanded line of solutions for unified commerce with semi-integrated mobile EMV for cloud points of sale.
Retailers today are engaging with their customers on a personal basis, wherever customers want to interact. Delivering a brick and mortal retail experience that is relevant and engaging is a critical task for retailers of all sizes, and one we've seen as a consistent theme here at NRF's "Big Show." Ensuring that a customer doesn't walk out the door in order to place an order on Amazon.com, turning retail locations into showrooms for e-commerce companies, is paramount.
As retailers expand the point of interaction from the counter to the floor, their ability to know their customers and complete the transaction quickly without compromising security has been challenging, especially for those retailers utilizing cloud-based systems. Handpoint's new express integration enables ISVs and merchants using cloud-based systems to have semi-integrated mobile EMV with P2PE. Like all of Handpoint's award-winning solutions for mobile POS, the merchant experience is reliable, scalable, and seamless. Merchants simply grab their Handpoint mobile POS and hit the floor to grow their business. Retail is moving towards meeting consumers where they are, and a payments solution that provides both ease and security is paramount to competing with e-commerce experiences.
Handpoint CEO, David Gudjonsson, said: "In the rapidly evolving world of retail, it's important that merchants are able to stay one step ahead of the competition by offering seamless and innovative payments experiences to technologically-savvy and fast paced consumers. With Handpoint's solution for cloud-based systems, we're empowering forward looking merchants to do exactly that."
Handpoint's mobile EMV solutions cover use cases well beyond retail. POS developers use the cloud to serve customers in every vertical from golf, to ticketing, to airport operations, to restaurants. Combining the scalability of the cloud with Handpoint's mobile EMV gives merchants the power to create a seamless customer experience. By partnering with these innovative developers, Handpoint is empowering retail merchants to provide the customized and personalized experience to compete with e-commerce platforms.
To learn more about Handpoint's express integration solution for cloud-based systems, please visit us at Handpoint.com or contact us at sales(at)handpoint(dot)com.
About Handpoint
Headquartered in Iceland with offices in the UK and USA, Handpoint powers NextGenPOS by offering enabling hardware and software to the payments industry. Handpoint has pioneered major innovations in the mobile payments market, including developing easily integrated EMV payments and has won multiple awards for the high pace of innovation in developing their end-to-end integrated payments migration platform.