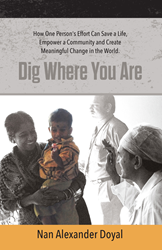 If you want to do something important for the world, you do not need to look far, you are already there
Chicago, IL (PRWEB) January 17, 2017
New book "Dig Where You Are: How One Person's Effort Can Save a Life, Empower a Community and Create Meaningful Change in the World" (Casper Press) by Nan Alexander Doyal gives voice to seven remarkable people making a difference in the world today, and invites readers to ponder how they can too.
What if you discovered you had the power to change the world? What would you do first?
For anyone who has ever wondered if what they do matters or how they might make a difference but do not know where to start "Dig Where You Are" is what you've been waiting for. It is about the potential in each of us to make a difference in the world by simply taking what we already know how to do and using it to make a meaningful change for the good. It is about seeing the opportunity in front of us to make something better and then doing something about it.
Doyal introduces readers to seven men and women who have solved some of the biggest challenges facing our societies today. Their stories are entertaining, heart-breaking, inspiring and at their core, empowering. Their stories are bursting with hope and grace.
"'Dig Where You Are' reminds us that we are not passive spectators of our own lives, our neighborhoods and communities," said Swati and Ramesh Ramanathan, Co-Founders, JANA Group-committed to fixing India's cities. "This book is a clarion call to action––to not waste a moment, to begin today."
From the slums of Mumbai, the villages of Tibet and northeast Thailand, the inner cities of Philadelphia and San Francisco, and a ghetto outside Stockholm, "Dig Where You Are" tells of an artist, a surgeon, a teacher, a criminologist, an economist, a community organizer and a general physician each of whom saw a way beyond suffering and injustice, took responsibility for the well being of others and ended up transforming lives and communities across the world.
"If you want to do something important for the world, you need not look far, you are already there––you just have to start," says Dorothea Rosenblad, Rinkeby School, Sweden. Rich Williams, Chief Executive Officer, Groupon adds, "The heroes of social innovation recognized in this book have much in common with successful entrepreneurs and business leaders. They have a clear sense of purpose and their ability to involve others in defining it. "Dig Where You Are" casts an important framework for modern leadership and driving sustainable change––in any kind of organization. It is an inspirational reminder of the power of purpose, conviction and customer focus."
There is a human perspective to these stories that strips away the heroic veneer of its characters and shows recognizable, even average people making a big impact on the world around them.
"It is not about wishing we were someone we're not, but about recognizing and using the talent we have and including those around us in an effort to bring about change," says Doyal. "I believe it is also one of the expectations that is set for us when we go out into the world."
Written to inform and to inspire, "Dig Where You Are" tells the stories of seven men and women who have dug where they are. They started with something small that helped a person or a situation, and ended up transforming lives and communities across the world.
John Abrahamson, Chairman, Lund University School of Economics and Management and Managing Director, SEB, says, "For more than a decade Nan Alexander Doyal has helped leaders of global corporations learn from the experiences of others from different cultures and walks of life. Now she takes us to places and people we could never find or understand on our own. This book introduces us to people who made the impossible happen with very few resources."
Danielle Brian, Executive Director, Project on Government Overnight (POGO) adds, "Nan Doyal shows us the quiet power of community-based efforts to make things better, while persuading us that we can accomplish more than we think. What is most profound is that each of the protagonists in this book has succeeded because their motivation is first and foremost to fix a problem, and not advance their own interests, as is the case with many institutions and political figures today."
To learn more, visit: digwhereyouare.com
Books are available online and in bookstores. They can also be ordered directly from the publisher at: casperpress.com
About the Author
Nan Alexander Doyal has lived and worked in North America, Europe and Asia for more than three decades, most recently as President of The International Forum––an organization designing active learning experiences for the leaders of global corporations. For years she sought out people from all walks of life who were "digging where they are"––doing what they know how to do in order to make meaningful and sustainable change for the good.