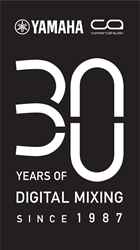 "We are humbled by the accolades we have received from engineers around the world, which only inspires us to make quantum improvements and refinements for many years to come." Alan Macpherson, professional audio general manager, Yamaha
Buena Park, California (PRWEB) January 17, 2017
In 1987, Yamaha unveiled the DMP7, a groundbreaking digital mixer featuring Channel Parametric EQ, 2 Internal Effect Processors, a Stereo Compressor, advanced scene memory that allowed instant recall of multiple mix setups and unique motorized faders that moved with each recall. The DMP7 also represented a significant company milestone – its first digital mixer, providing a solution not only for professional keyboard players, but also for mixing in both live and studio situations.
In the intervening 30 years, Yamaha has since produced 22 unique series of digital mixers, pushing the technology envelope and paving the way for digital acceptance at the professional level, while heralding the company as a top manufacturer of this cutting-edge technology.
Yamaha got an early start in the field of professional mixing consoles with the introduction of its first PM series analog mixer in 1972, which led to a string of extremely successful launches spanning four decades. Having built an enviable reputation for reliability, Yamaha confidently saw its segue into the digital realm as a natural one, and easily proved that a digital mixer was as reliable as, or even more reliable than an analog mixer. Many commonplace features found on today's digital mixers were pioneered by Yamaha.
The past thirty years of digital-mixer history at Yamaha is punctuated by several key products. Among them:

1995: The 02R became standard equipment in studios throughout the world upon its release, featuring 44-channel mixing capacity with 4-band parametric EQ, dynamics processing, input delays, and much more. The 02R also triggered the proliferation of professional-quality project and personal studios that change the face of music production forever.
1999: The PM1D was the first of its kind in digital mixing systems, designed specifically for live sound reinforcement. The PM1D sparked a digital revolution in live sound after its debut at Carnegie Hall in New York City; its worldwide popularity resulted in significant sales and the beginning of a new era.
2004: While the PM1D paved the way for acceptance of the digital in high-end sound reinforcement, the PM5D solidified that digital was the right choice for touring and festivals. Because of its ease-of-use and intuitive operation, it was an obvious drop-in replacement for an analog console. At the time, the Yamaha Commercial Audio Training Seminars staff were working overtime to keep up with demand on training on this system. It was claimed by many rental companies to be the most "rider-friendly" digital mixer, and still today, some 13 years later, it remains as an acceptable substitute on many riders.
2005: The M7CL proved to be another disruptive product, designed specifically for simple operation and creating a smooth transition for analog users – primarily targeting Houses of Worship.
All this innovation paid off in 2007, when Yamaha was awarded a Technical Grammy by the Recording Academy, which recognized the company's long tradition of highly-successful recording products, including the REV series digital reverbs; the legendary NS-10M studio reference monitors and HS monitors, as well the Yamaha DMP7, DMC1000, ProMix01, 02R and DM2000 digital mixing consoles.
Today, the Yamaha legacy continues with:

The Yamaha CL series digital mixing consoles, which deliver naturally superior sound, plus a comprehensive range of "coloring" options that give the craftsmen who use them extraordinary creative freedom.
The QL series consoles, which offer all-in-one mixing, processing, and routing capability for small to medium scale live sound, corporate speech events and installations.
The Yamaha TF series consoles, featuring a unique TouchFlow Operation interface that has made digital mixing a much simpler and more accessible practice, allowing users to respond to the music and artists on stage with unprecedented speed and freedom, and opening sound engineering up to amateurs and volunteers.
The RIVAGE PM10, a thoroughly refined flagship that defines the direction of digital mixers for future generations in terms of sound quality, operation, functionality, reliability, expandability, and more. Building on the heritage of the PM1D and 5D models, the RIVAGE PM10 significantly increases the qualities and capabilities of both models.
"Yamaha has held a deeply-rooted commitment to the music products industry for 130 years, and for the past three decades, has built an extraordinary legacy for superior sound quality, innovation, craftsmanship and reliability in our digital mixers," said Alan Macpherson, professional audio general manager, Yamaha Corporation of America. "We are humbled by the accolades we have received from engineers around the world, which only inspires us to make quantum improvements and refinements for many years to come."
At the NAMM Show this month, Yamaha will formally kickoff the 30th anniversary celebration of its pioneering work in digital mixers, which will be highlighted at the company's "Heart of Inspiration" concert on Friday, January 20th in the Marriott Hotel.
For more information, please visit the Yamaha Booth at the 2017 NAMM Show in the Anaheim Marriott Hotel, Marquis Ballroom, January 19-22, 2017, or 4wrd.it/YamahaDigitalMixers
About Yamaha
Yamaha Corporation of America (YCA) is one of the largest subsidiaries of Yamaha Corporation, Japan and offers a full line of award-winning musical instruments, sound reinforcement, commercial installation and home entertainment products to the U.S. market. Products include: Yamaha acoustic, digital and hybrid pianos, portable keyboards, guitars, acoustic and electronic drums, band and orchestral instruments, marching percussion products, synthesizers, professional digital and analog audio equipment, Steinberg recording products and NEXO commercial audio products, as well as AV receivers, amplifiers, MusicCast wireless multiroom audio systems, Blu-ray/CD players, earphones, headphones, home-theater-in-a-box systems, sound bars and its exclusive line of Digital Sound Projectors. YCA markets innovative, finely crafted technology and entertainment products and musical instruments targeted to the hobbyist, education, worship, music, professional audio installation and consumer markets.