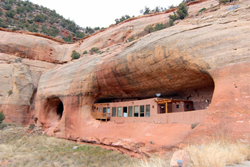 Pompano Beach, Florida (PRWEB) January 17, 2017
"Utah Cliff House Auction"
Next time someone says, "Go live under a rock!", they probably hadn't thought of how cushy that could actually be. For ultimate protection from the stars falling as well as noisy neighbors and monthly billing assaults by the local power company, living under a rock could be the answer to the alternative of living in a very chaotic world. A solar-powered Utah cliff home inside a rock cliff with its own orchard and vineyard and total off-the-grid living is going to auction on January 21st.
Located in the Montezuma Canyon in Monticello, Utah, the 12-acre property includes 2,100 square feet with three bedrooms and two baths, wifi and phone lines on the property. Built in 1986 and continuously added to for total self-sufficiency, there is a 24-volt solar system, well, two 2000-gallon culinary stainless water collection tanks, propane and backup generator, and vegetable garden in addition to the mature orchard and vineyard. There is also a detached 900-square-foot garage.
Now that the owners are getting older, they felt it was time to pass it on to a younger family who would appreciate the dramatic landscape and the benefits of an off-grid property that has already been completely set up and functioning smoothly.
The Cliff House was previously listed for sale at $599,000. Moab Premier Properties in Moab, Utah is conducting the auction.
Visit TopTenRealEstateDeals.com for more historic, celebrity and spectacular homes and real estate news.