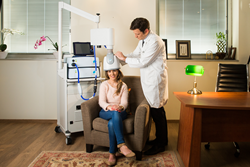 Transcranial magnetic stimulation is the next revolution in psychiatry, much like we saw 30 years ago with the invention of Prozac
San Clemente, CA (PRWEB) January 17, 2017
Achieve TMS, with multiple locations in San Diego County, as well as Palm Desert, is opening a new office in San Clemente, California this month. Achieve TMS is the largest provider of Brainsway deep transcranial magnetic stimulation (dTMS) in Southern California, successfully treating individuals struggling with major depression. Depression impacts over 40 million adults in the U.S. and many find no relief with traditional medications. Brainsway Deep TMS (dTMS) offers hope to those who suffer from medication-resistant depression.
Deep TMS is a safe, non-invasive therapeutic treatment that requires no anesthesia or down time. In over 60 clinical studies, dTMS was FDA cleared in 2013, has proven itself to be a safe and effective tool in the treatment of major depressive disorder (MDD). Using magnetic fields similar to that of an MRI, dTMS targets the limbic region of the brain associated with mood, stimulating underactive brain cells and resetting brain chemistry. The patient is alert during the 20-minute sessions and is able to return to normal daily activities following treatment. Deep TMS produces significant improvements in sleep, concentration and mood over the course of the 4-6 week treatment regimen.
Manish Sheth, M.D., Ph.D., is a board certified psychiatrist with vast experience treating patients with various mental health conditions, including depression, bipolar disorder, anxiety, and other mood disorders. He sees the advent of the TMS technology as transforming the treatment landscape for depression. "Transcranial magnetic stimulation is the next revolution in psychiatry, much like we saw 30 years ago with the invention of Prozac." - Dr. Manish Sheth, Medical Director of Achieve TMS.
For more information about Brainsway dTMS, or to schedule a consultation, please call 877-447- 6503. Achieve TMS San Clemente is located at 1031 Avenida Pico Suite #203, San Clemente, CA 92673.