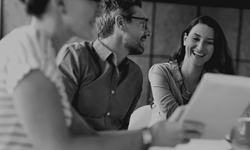 The Media Lab and the Analytics Center will help clients truly leverage HIMSS' unique audience insights and industry passion to drive their marketing success.
New York (PRWEB) January 17, 2017
HIMSS is pleased to announce it will launch its first conference to focus exclusively on simplifying the challenges of health IT marketing in today's fast-changing digital environment. The BrandHIT Marketing Summit — being held at The Encore at Wynn Las Vegas — will bring the most experienced professionals in the health IT space together on June 15 – 16 to share valuable insights for marketing throughout every stage of the health IT buyer's journey.
The conference will include breakout sessions on how to leverage crucial digital marketing channels, including native content, social media and mobile, as well as how to engage customers with thought leadership, augmented reality and traditional face-to-face marketing. Other topics to be covered include: data hygiene, predictive analytics, and lead nurturing and scoring for HIT-specific platforms, devices and services.
Forbes predicts that 2017 will bring more native advertising, augmented reality and skimmable content. [1] For the healthcare industry, which traditionally lags behind other digital marketers, BrandHIT couldn't be happening at a better time.
"We created BrandHIT to help health IT marketers take their content marketing and data visualization strategies to the next level and truly differentiate their brand," said H. Stephen Lieber, President and CEO, HIMSS. "We specialize in supporting organizations who market tech solutions to HIT customers every day and we're delighted to be sharing what we've learned and give marketers tools for gaining a competitive advantage."
BrandHIT sessions will focus on:

Strategic Navigation
Content Analytics and Delivery
Data Strategies
Outside-in Viewpoints
Convergence
Face to Face Events
Customer Experience & Post Digital Engagement
Social Media
Global Branding
Lead Generation
Visit our event website for more information or register here.
About HIMSS
HIMSS is a global, cause-based, not-for-profit organization focused on better health through information technology. HIMSS leads efforts to optimize health engagements and care outcomes using information technology. HIMSS is a cause-based, global enterprise producing health IT thought leadership, education, events, market research and media services around the world. Founded in 1961, HIMSS encompasses more than 61,000 individuals, of which more than two-thirds work in healthcare provider, governmental and not-for profit organizations across the globe, plus over 640 corporations and 400 not-for-profit partner organizations that share this cause. HIMSS, headquartered in Chicago, serves the global health IT community with additional offices in the U.S., Europe, and Asia.
About HIMSS Media
HIMSS Media is the fastest growing B2B media group focused exclusively on health and technology markets. Through its suite of market-leading brands, such as Healthcare IT News, Healthcare Finance and MobiHealthNews, HIMSS Media delivers news, analysis, and must-have information to an audience of senior healthcare and technology influencers. HIMSS Media is also the leading producer of important live events, including Big Data and Healthcare Analytics Forum; Cloud Computing Forum; Digital and Personal Connected Health; Precision Medicine Summit; Privacy & Security Forum; Pop Health Forum; Revenue Cycle Solutions Summit.
7 Online Marketing Trends that Will Dominate 2017, Forbes, November 14, 2016, By Jayson DeMers [1]