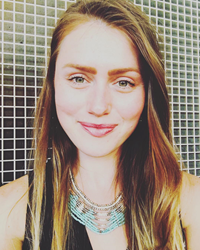 You are the master of your reality.
Gold Coast, Queensland (PRWEB) January 19, 2017
For more information contact:
Chetanya Haggard
https://www.facebook.com/chetanyahaggardinternational/
Personal coach and mentor Chetanya Haggard announced today the launch of her new coaching brand and membership site. The new venture will allow her to assist individuals who wish to work on their mindset and overcome personal challenges.
Haggard, who has gained tools and strategies from her work with coaching experts like Regan Hillyer, says she also draws on personal experience in overcoming obstacles. "I use my own story as an example. I went through a lot of adversity right up until my late teens—abuse, losing both parents at a young age, seeing my mother and brother go through serious mental break downs. I understand that it's not about what we've been through, its about the decisions we make that will determine what direction our lives take."
Haggard's membership site, https://chetanyahaggard.com/launch-price-special-order-form, offers assistance for individuals who want to break free of personal limitations and achieve the life they desire. "My core message for everyone is, 'You are the master of your reality.' I want to remind people they have the power to create what they want in their lives and be truly happy and fulfilled."
Haggard has a long list of role models and mentors who have inspired her through out her journey, but she says one of her top role models would have to be the great Anthony Robbins, actually saying that one of her ambitions in life is to be "bigger than Toni Robbins".
Haggard is has recently released a self-help book called "Creating Happiness - A seven step guide to creating a truly happy and fulfilling life" which is a practical guide with experiences interwoven throughout from her life, which have taught her highly valuable lessons. She encourages people who are interested in a personal coaching plan to visit her website for more information, or searching for her by name on social media, where she is very active. Her Private Facebook group, Hustle with Flow, is a great place for anyone who wants to be part of a group of people who are all committed to unleashing their own greatness. This can be found at: https://www.facebook.com/groups/hustlewithflow/