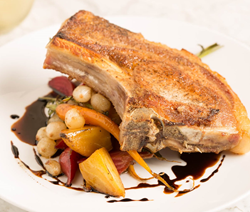 While we understand the science of gut health is in its infancy, we believe that the steps Threepenny Cafe is taking are consistent with what's being learned.
Charlottesville, Virginia (PRWEB) January 18, 2017
From a health perspective, 2017 will clearly be the Year of the Gut. New studies are released almost daily linking gut health to chronic disease, mental health and general physical well-being. The New York Times suggested a "Gut Makeover for the New Year" as an important resolution to consider.
For one Charlottesville restaurant, good gut health is clearly on the menu. Threepenny Cafe, located in the rapidly developing Midtown district, creates dishes and sources products based on the firm belief that food can be both delicious and help develop a healthy microbiome.
"I've been passionate about understanding the relationship between diet and chronic disease for over 20 years," said Threepenny Cafe owner Merope Pavlides. "There's a lot of chronic disease in my family, so trying to understand how diet impacts development and progression of illness is truly personal."
The human gut microbiome is incredibly complicated and unique to each individual, so knowing how to eat to promote gut health can seem overwhelming. And the science of gut health is rapidly evolving. What many studies seem to underscore, however, is the need for homeostasis—the balance between helpful and harmful microbes. Homeostasis may be driven by both the nature of the microbes in our guts and the presence of what sustains them. (What we eat affects what is available for our gut bacteria to eat.)
"While our first priority is creating amazing food, we spend a lot of time reading and studying about gut health," said Pavlides. She noted that she closely follows the work of Martin J. Blaser, author of "Missing Microbes," as well as that of Tim Spector ("The Diet Myth"), Jeff Leach ("Rewild") and Rob Knight of the American Gut Project. "We look for through-lines in the evolving science, and try to source and cook accordingly. Chef Jeff Deloff translates what we understand about good gut health into dishes that are unique and truly delicious."
Threepenny Cafe's efforts to promote gut health include:

Using whole, fresh ingredients that are minimally processed;
Serving local, organic and whole grains;
Using fresh, seasonal, local and organic produce with an eye towards variety;
Working with local farmers willing to custom grow products;
Serving local, pastured, antibiotic-free meats and local, organic dairy products;
Incorporating gut "superfoods" into recipes;
Serving wild seafood, approved by the Monterey Bay Aquarium Seafood Watch program;
Providing vegan and gluten free options.
"Americans love to eat out," noted Pavlides. "We should be able to do that without sacrificing our health. But so much restaurant food is highly processed or produced in a manner which may well contribute to gut dysbiosis. While we understand the science of gut health is in its infancy, we believe that the steps Threepenny Cafe is taking are consistent with what's being learned."
Threepenny Cafe is located at 420 West Main Street in Charlottesville, Virginia. Full menus are online at threepennycafe.com. Reservations can be made online or by calling 434-995-5277.