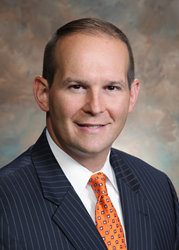 NORRISTOWN, Pa. (PRWEB) January 18, 2017
High Swartz LLP is pleased to announce that Eric B. Smith is the new president of the Montgomery Bar Association. Smith will lead the third largest Bar Association in Pennsylvania, made up of more than 2,100 Montgomery County attorneys.
"The Montgomery Bar Association offers a single place to network, learn, teach, lead and socialize," said Smith. "With so many opportunities, members can tailor make their involvement to meet their needs. The Association is the one place to connect."
A member of the Montgomery Bar Association since 1998, Smith has served as the organization's vice president, treasurer, secretary, and as a director. He is also a fellow of the Montgomery Bar Foundation and has been active in the Pennsylvania Bar Association. The Montgomery Bar Association offers its members substantive sections and committees as well as robust CLE programming, publications, social networking events and public service opportunities. In 2017 Smith will focus the association on diversity, attracting newly admitted lawyers as members and sharing the association's programs through social media.
Smith focuses his practice in commercial and real estate litigation and municipal litigation. His commercial litigation practice includes the representation of clients in contract and warranty disputes, disputes under UCC-Sales, construction disputes, mechanics' liens, Contractor and Subcontractor Payment Act claims and unfair trade practice claims. His real estate litigation practice includes the defense of title claims, adverse possession, easement and boundary disputes, quiet title, reformation, partition and eminent domain, as well as title agency liability and defense. His municipal practice includes home rule law as well as municipal litigation.
Since 2005 Smith has served as the solicitor for the City of Reading Charter Board and has served as regional outside counsel for Home Depot U.S.A., Inc. since 2010.
Prior to joining High Swartz LLP, Smith served as a law clerk to the Honorable Samuel W. Salus, II, of the Montgomery County Court of Common Pleas. Smith is a graduate of Franklin and Marshall College and The Dickinson School of Law.
High Swartz LLP is a general practice law firm serving clients in the Delaware Valley and throughout Pennsylvania from offices in Norristown and Doylestown. Established in 1914, High Swartz serves the needs of businesses, municipalities, government entities, nonprofits and individuals. With offices in Bucks County and Montgomery County, the full-service law firm provides comprehensive counsel and legal support to individuals and business entities of all sizes across a broad spectrum of industries throughout Pennsylvania and New Jersey. For more information, go to http://www.highswartz.com.