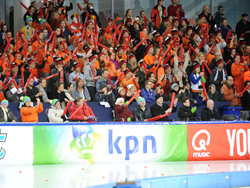 New York, New York (PRWEB) January 18, 2017
KPN, the largest sponsor of sporting events in the Netherlands, recently rolled out a campaign to over 290,000 of their customers to promote their sponsorship of the Speed Skating National Championship.
Partnering with New York based start-up, Seaters, they used their sponsorship tickets to activate their customer-base. In total, over 6,000 tickets were distributed over the three-day event from December 28-30th. An overwhelming success, the email campaign actually captured a total demand for over 18,000 tickets. As a title sponsor of the event, KPN received further tickets from the championship organizer, who has also planned to increase the number of tickets that will be available for the upcoming National Allround & Sprint Championships at the end of this month.
"We are very excited to expand on our already successful relationship with KPN and to help them activate their customer base and provide another innovative and unique service," said Seaters' Chief Executive Officer, Jean-Sebastien Gosuin.
The latest company to utilize Seaters patented technology, KPN's customer activation campaign comes off the back of a pilot test with Seaters. The two continue to take strides forward in achieving their goals of generating the highest possible return on investment from event sponsorship.
Mark Versteegen, who is the Head of Sponsoring for KPN, said "We are putting all of our sponsor tickets for sports, festivals and music events in to the program."
The next event on the list for KPN and Seaters will be the National Allround & Sprint Championships, starting January 20th.
About Seaters:
Seaters is an international, award winning, marketing technology company in the business of driving greater revenue, activating direct one-to-one brand/consumer relations, increasing brand value for sport and live event sponsors and organizers while radically reducing waste of their valuable assets.
About KPN:
KPN is the largest telecom and IT service provider in the Netherlands. More than 15'000 employees are dedicated to providing customers with products and services, using the latest technology.
Press Contact:
Donovan Lazar
Vice President of Sales & Marketing
donovan.lazar(at)seaters(dot)com