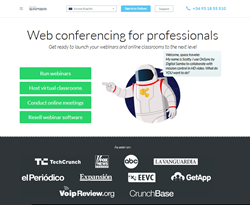 BARCELONA, SPAIN (PRWEB) January 18, 2017
Digital Samba, SL, creator of the award-winning all-in-one web conferencing solution OnSync, announced today that it has launched a completely re-imagined website, and introduced new simplified pricing plans for both organizations and resellers.
Digital Samba's new website at http://www.digitalsamba.com is designed with an ultra-fast loading "flat" user interface, which enables visitors to quickly target and drill-down into the information they want. It is the same technology and approach that is featured in the latest version of OnSync 5.0.5, which was released in late 2016.
Unlike ordinary web conferencing tools that are limited by inefficient codecs and bandwidth restrictions, and that require costly and complicated on-premise installations, OnSync is browser-based, cross-platform and mobile. Users simply enter a private online meeting room from their desktop, laptop, tablet or smartphone, and enjoy a professional-grade, high quality video and audio experience.
Overall, Digital Samba's new website offers dozens of additions, improvements and enhancements. Major upgrades include:

New knowledge portals that describe and showcase three of OnSync's most popular applications: Running Webinars, Hosting Virtual Classrooms, and Conducting Online Meetings.
A simplified and streamlined layout that delivers a wealth of relevant, and eliminates clutter and over-crowding thanks to a cleverly hidden "click to open" menu.
A new blog that features intelligent search functionality, new content categories for various user groups, multiple social sharing options, and more.
New local dial-in numbers that customers and resellers can leverage to access their sessions.
In addition, Digital Samba announced new simplified pricing plans and server licensing options for organizations, as well as reseller partners that want to add ("white label") OnSync to their roster of value added solutions.
"Our network of global reseller partners choose us because we empower them with full control over how they want to position, brand and price OnSync within their portfolio," commented Robert Strobl, Digital Samba's CMO. "We also ensure that our resellers enjoy an efficient and streamlined experience thanks to our telco friendly architecture and strong API, which supports full integration with teleconferencing systems and payment gateways".
Mr. Strobl added: "Our new website is just the first of many major developments that we have in the pipeline, such as a brand new webRTC web conferencing product. We will be announcing further details later in the year".
More information, including detailed OnSync feature descriptions, demo videos, technical specifications, reseller information and pricing options, is available at http://www.digitalsamba.com. A 30-day free trial is available on all plans.
About Digital Samba
Digital Samba specializes in the conceptualization and realization of Intranet, Extranet and Internet communication and collaboration solutions, including the award-winning OnSync server web conferencing solution. We believe that business processes can only be successful when communication channels remain open. Our vision and determination is designed to improve yours. Learn more at http://www.digitalsamba.com.