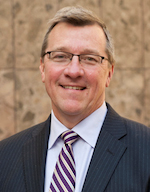 Calgary, AB (PRWEB) January 18, 2017
During his thirty year industry career, Greg has been a recognized leader in the insurance sector in both US and international venues. Formerly senior vice president and global head of Chubb's Accident & Health business that spanned 28 countries, Greg also held senior positions at Marsh & McLennan Companies where he served as global co-leader of Mercer Marsh Benefits. Before that, Greg was with the Willis Group, UnitedHealth Group, and for more than twenty years at AIG during which time he lived and worked overseas in the Middle East and in Europe.
Greg serves on the international committee (previously as Chairman) of the Self-Insured Institute of America (SIIA); is a Senior Advisor to eShare, the U.K. technology firm that specializes in pensions and Board governance; is Senior Advisor to WorldCare International, the global telemedicine firm; and, is an active participant at the National Foreign Trade Council (NFTC).
A graduate of Colgate University with a B.A. in international relations and economics, Greg also has a Chartered Life Underwriter (CLU) designation from the American College. He has served the last seven years on Colgate's Presidents' Club membership committee including on-campus student career mentoring.
In his new role for MSH INTERNATIONAL, Greg will continue to be based in the Greater New York City area and will be active in the marketplace with strategic carrier partners, reinsurers, brokers, consultants and industry associations. Thanks to Greg's knowledge and extensive industry network, MSH is aiming to strengthen its footprint across the Americas.
"This really is a fantastic opportunity to help design and further develop MSH's capabilities to 'serve with distinction' the expanding international mobility markets for both corporate groups and individual lives, Greg commented on finalizing the new role. MSH already has a tremendous global footprint with main offices in Paris, Calgary, Dubai and Shanghai and solid medical provider network. I've always had a great passion to be a 'market maker' - and now look forward to working with the MSH leadership team to take their successful business to the next level."
"We are delighted to have Greg onboard. I am excited about the many opportunities that lie ahead for our company in the United States. Greg truly understands the complexity of our market and is a perfect fit to lead our growth initiative", says Philippe de Dreuzy, President and CEO of MSH INTERNATIONAL.
About MSH INTERNATIONAL
MSH INTERNATIONAL provides groups and individual expatriates with global health insurance solutions, with a network of over a million healthcare providers and 14 offices worldwide. As a subsidiary of Paris-based SIACI SAINT HONORE Group, MSH INTERNATIONAL is one of the largest and most comprehensive suppliers of expatriate insurance services in the world with more than 330,000 insured participants.