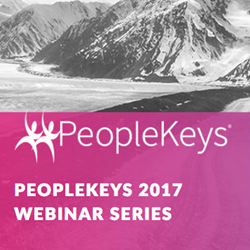 Boardman, Ohio (PRWEB) January 24, 2017
PeopleKeys, a leading developer of DISC personality testing and behavioral analysis solutions, today announced the new topics for their 2017 webinar series. Each installment in the 2017 webinar series will be geared towards the everyday DISC user, and will focus on the ways DISC personality assessments can be used to change lives, improve careers, and build better relationships. Each of the 2017 webinars will begin at 11am EST, and will be available on-demand the following day.
Upcoming installments of the newly announced 2017 webinar series include:
Understanding Your Personality - Jan 20
StudentKeys - February 17
Selling with Style - March 10
Managing Stress - April 21
Becoming a Certified Behavioral Consultant - May 19
Navigate Your PeopleKeys Account - June 16
StudentKeys - July 14
Benefits of a Soft Skill Assessment - August 18
Using DISC in an Interview - September 15
Group Dynamics Report - October 13
Trainer's Toolbox - November 17
Leading with Style - December 8
Of the new webinars PeopleKeys Marketing Manager Kaitlyn Miller said, "We're so excited to announce our new catalog of webinars for 2017. Each month we will be highlighting a different way that an understanding of personality can be used to benefit people, their careers, and their relationships. Whether you're interested in using our products and services to grow your organization, improve your life, further your career, or better service your own clients, these 30-minute webinars are a great way to learn about what DISC and personality profiles can do for you."
All of the PeopleKeys DISC webinars will begin at 11am EST, the first of which will air on January 20. For those unable to attend the live classes, all webinars will be available on demand the day after original airing. For more information about the 2017 webinar series, including in-depth descriptions of each monthly topic and registration information, visit peoplekeys.com.
About PeopleKeys
PeopleKeys has been providing tools to measure the connection between personality and human behavior for over 30 years. PeopleKeys believes that an understanding of human behavior can be used to create effective leaders, improve relationships, streamline productivity, improve communication, and reduce stress. Their DISC personality tests and behavioral analysis tools have been translated into over 23 different languages, and are sold around the world. For more information about PeopleKeys and their DISC solutions, please contact Marketing Manager Kaitlyn Miller at 330-599-5580 x113.