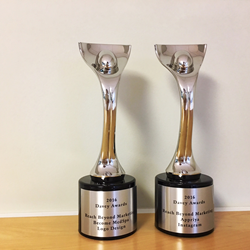 Branford, Conn. (PRWEB) January 18, 2017
Reach Beyond Marketing was recently recognized by the Academy of Interactive and Visual Arts with "Davey Awards" for their creative work on Appriya's Instragram network and Become Med Spa's logo design, being named Silver winners for the "Become Your True Self" and "Instagrams of Gold" campaigns.
"I am so pleased that our agency has been recognized for its work with Appriya," said Francis Acunzo, CEO and Managing Partner of Reach Beyond Marketing. "Our team worked very hard launching and developing Appriya's Instagram platform, and I couldn't be any happier with the result."
Entries were judged by the Academy of Interactive and Visual Arts (AIVA), which is a member-based organization of esteemed professionals from different disciplines of the visual arts. Members of this organization embrace the progress and evolving nature of traditional and interactive media. Entries submitted to AIVA are judged on the distinctiveness of creative work, then separates Gold and Silver winners into their respected categories based on a predetermined standard of excellence.
About the Davey Awards
The Davey Awards is an international creative recognition focused exclusively on honoring outstanding creative work from the best small agencies worldwide. The 2016 Davey Awards received nearly 4,000 entries from ad agencies, interactive agencies, production firms, in-house creative professionals, graphic designers, design firms and public relations firms.
About Reach Beyond Marketing
Reach Beyond Marketing is a full-service marketing and digital agency assisting clients in the medical aesthetic, health, wellness, and other industries to "reach beyond" growth, revenue, and profit goals. The agency boasts experts with extensive experience in digital and traditional marketing and communications including web development, content creation, branding and graphic design, social media strategy, video and photographic production, and much more. Reach Beyond is an affiliate agency to Acara Partners, a dynamic business consultancy led by husband and wife team Francis and Colleen Acunzo. More details at reachbeyondmarketing.com.