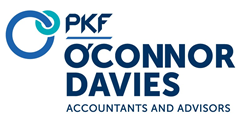 New York, NY (PRWEB) January 18, 2017
PKF O'Connor Davies, LLP, the nation's 26th largest accounting and advisory firm, announced today that it has named Ann Buscaglia, Jennifer Galasso, Stephen Machinski and Andrew Scott as Partners. The newly promoted Partners bring over 50 years of combined experience in public accounting and auditing to PKF O'Connor Davies' team of industry-leading professionals. The moves demonstrate the Firm's commitment to building the next level of leaders as it continues to expand in key service areas and geographies.
"Each one of these talented individuals has already made significant contributions to the firm, and we will look to them for continued leadership as we grow," said Kevin J. Keane, Managing Partner. "We will draw on their depth of expertise to guide expanded teams while helping the Firm continue to drive value for our clients in every engagement. We are excited for these talented professionals, and we're proud to call them Partners."
Ann Buscaglia, CPA, has over 30 years of experience providing tax services to closely held businesses in a variety of industries. Based in the Firm's Harrison, N.Y., office, Buscaglia provides tax services for all aspects of business including partnerships, corporate, individual, trust, and foundation returns providing clients with a comprehensive perspective. Prior to joining the Firm, Buscaglia owned her own firm. She is a member of the American Institute of Certified Public Accountants (AICPA) and the New York State Society of Certified Public Accountants.
Jennifer Galasso, CPA, has spent 15 years specializing in audit and tax work for all types of affordable housing entities including Low Income Housing Tax Credit limited partnerships and not-for-profit sponsor organizations and developers. She is the lead auditor for Yellow Book audits, maintaining extensive continuing education credits in governmental auditing. Galasso serves as a member of the treasury team of It Takes a Village 10591, an organization that provides support services for seniors.
Stephen Machinski, CPA, brings over 18 years of experience practicing accounting and auditing with an extensive background in serving not-for-profit organizations, including educational institutions, religious organizations, social service agencies and health and welfare organizations and associations. Machinski's expertise includes conducting audits in accordance with the Uniform Grant Guidance (Single Audit) and audits of employee benefit plans. He is a frequent instructor in the Firm's not-for-profit continuing professional education programs and is licensed in New York and New Jersey.
Andrew Scott, CPA, a former principal at FGP prior to its merger with PKF O'Connor Davies last year, has over 13 years of experience in advising clients in various industries. Scott's clients include individuals and small and medium-sized businesses. Scott specializes in audit services related to non-public privately held businesses in various industries. He is an active member of the Firm's recruiting team, attending various recruiting events and conducting interviews for new hires.
In addition to these recent promotions, PKF O'Connor Davies has added more than 160 associates in the last two years in targeted areas of growth throughout the Firm. PKF O'Connor Davies now boasts nine offices in four states and continues its strategic growth activity with mergers and acquisitions in the Northeast and Washington, D.C. region.
About PKF O'Connor Davies, LLP
PKF O'Connor Davies, LLP is a full service Certified Public Accounting and advisory firm with a long history of serving clients both domestically and internationally. With roots tracing to 1891, nine offices in New York, New Jersey, Connecticut and Maryland, and more than 600 professionals, led by 100 partners, the Firm provides a complete range of accounting, auditing, tax and management advisory services.
PKF O'Connor Davies is ranked number 26 in Accounting Today's 2016 "Top 100 Firms" list and the Firm is also recognized as a "Leader in Audit and Accounting," a "Pacesetter in Growth" and one of the "Top Firms in the Mid-Atlantic." PKF O'Connor Davies is ranked number 29 in INSIDE Public Accounting's 2015 "Top 100 Firms" list and recognized as one of the "Top Ten Fastest-Growing Firms." In 2016, PKF O'Connor Davies was named one of Vault's Accounting 50, a ranking of the 50 best accounting employers to work for in North America, and ranked among the top 50 most prestigious accounting firms in America in a complementary Vault survey. The Firm is the 11th largest accounting firm in the New York Metropolitan area, according to Crain's New York Business, and was named the 10th top accounting firm in New Jersey according to NJBiz's 2016 rankings.
By consistently delivering proactive, thorough and efficient service, PKF O'Connor Davies has built long-lasting, valuable relationships with its clients. Partners are intimately involved in the day-to-day management of engagements, ensuring a high degree of client service and cost effectiveness. The Firm's seasoned professional staff members employ a team approach to all engagements to provide clients with the utmost quality and timely services aimed at helping them succeed. Continuity of staffing and attention to detail in all client engagements make the Firm stand out among its competitors.
PKF O'Connor Davies is the lead North American representative of the international association of PKF member firms. PKF International is a network of legally independent member firms providing accounting and business advisory services in 440 locations in 150 countries around the world. With its tradition, experience and focus on the future, PKF O'Connor Davies is ready to help clients meet today's ever-changing economic conditions and manage the growing complexities of the regulatory environment. For more information, visit http://www.PKFOD.com.