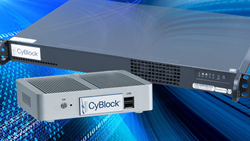 Our introduction of the Mini Appliance allows for even more choices for the challenging business configurations of today, says Dennis McCabe, CEO of Wavecrest Computing
Melbourne, FL (PRWEB) January 18, 2017
Wavecrest Computing is proud to announce an exciting new addition to its family of CyBlock Employee Web-use Security products, CyBlock Mini Appliance. The Mini Appliance is suited for every business, but is ideal for businesses that want cost-effective gateway hardware to secure their remote offices, have limited-space environments, or have smaller IT budgets.
The powerful Mini Appliance provides the comprehensive Web-use security capabilities of CyBlock, including HTTP and HTTPS URL filtering and reporting, secure guest Wi-Fi services with captive portal, threat protection, bandwidth management, cloud service management, as well as coverage for non-HTTP activity, e.g., P2P, torrents, IM, and e-mail.
"We actively focus on building our product line to combat contemporary threats for every size and type of business. We know that one size does not fit all, and security gateway hardware is still playing an important role in many businesses. Our introduction of the Mini Appliance allows for even more choices for the challenging business configurations of today," says Dennis McCabe, CEO of Wavecrest Computing. "Since our own in-house Wavecrest research and development team brings our products to fruition, listening to our customers' needs is second nature for us. CyBlock Mini Appliance is a strong representation of that."
CyBlock Mini Appliance joins the CyBlock employee Web-use security family that includes the following deployments: Appliance, Software, Hybrid, and Cloud. Wavecrest also offers Cyfin, the advanced employee Web-use monitoring and analytics solution.
About Wavecrest Computing
Trusted for over 20 years, Wavecrest Computing, headquartered in historic downtown Melbourne, FL, has provided commercial business and government clients with reliable, accurate Web-use management and Cloud Access Security Broker products since 1996. Managed Service Providers, IT specialists, HR professionals, and business managers trust Wavecrest's Cyfin and CyBlock products to manage employee Internet usage -- managing cloud services, reducing liability risks, improving productivity, saving bandwidth, and controlling costs. Wavecrest has clients worldwide, including General Electric, Lockheed Martin, Florida Department of Health, Siemens, Department of Homeland Security, and a growing list of global enterprises and government agencies. We are a proud long-term GSA contract holder. For more information on the company, products, and partners, visit https://www.wavecrest.net.