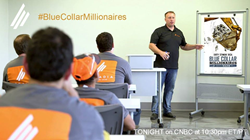 "When you start out and people tell you you're doing too much, you know you're doing the right thing!"
Dawsonville, GA (PRWEB) February 02, 2017
Selzer may be crafting, one of a kind, high end, adjustable pergolas now, but a few years ago the only thing he was crafting was young minds as a teacher. He also had a summertime construction business to supplement his teacher's salary. When the "side" construction business began bringing in more during the few months of summer than his teaching salary, Selzer traded in the 3 R's of teaching for just one…roofing. In 2008, in the midst of a collapsing economy, Selzer took a job with clients that changed his life. His clients were divided on what to do with their patio: the wife wanted to allow the sunshine in and the husband wanted to cover it for shade and protect it from rain. After multiple suggestions, the clients requested an adjustable pergola. After performing some research, Selzer found a company out of Australia that made roofs with louvers for their slats that adjusted to open and close. For Selzer this was a lightbulb moment. At that time, there were no louvered roofs or louvered pergolas east of the Mississippi making it a great opportunity for this niche in the remodeling and construction industry. But it didn't start out smoothly, states Selzer, "Unfortunately, the products we were buying were coming all the way from Australia. The quality wasn't there, shipping was a nightmare, and customer service was horrible. I said 'wait a minute, I can do this much better.'" After upgrading the engineering, Arcadia was born and what was once a company with an employee of one, now has 40 employees and hundreds of dealers nationwide.
Established in 2011, Arcadia's first year total revenue sales totaled $200,000. Over the first 5 years, Arcadia exploded, making the Inc. 5000 list as the 38th fastest growing manufacturer in America. In 2016, the company grew almost 60% and totaled $7 million in revenue. With that trajectory, in about 5 years, Arcadia will be close to a $40 million per year company…and that's just scratching the surface!
Selzer is often told he is doing too much, to which he sits back and chuckles. "When you start out and people tell you you're doing too much, you know you're doing the right thing! If you bring together the best product, the best people, and the best process, you're going to win every time."