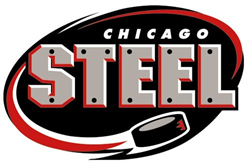 "Wayne and Garth are icons in the worlds of cable TV, music and hockey," explained Dan Lehv, Chicago Steel Hockey President.
Geneva, IL (PRWEB) January 18, 2017
Chicagoland Junior Hockey Team to Broadcast 'Wayne's World' Parody on Aurora Cable 10 In Honor of Movie's 25th Anniversary
Chicago Steel - #1 Ranked USHL Team Based Near Aurora Will Feature A Night of Hockey & Family Entertainment Themed Around the Famous Saturday Night Live Sketch and Movie
Game On! In a nod to the low-budget community access spoof that helped make Mike Meyers and Dana Carvey comedy stars, the Chicago Steel Hockey Team created and will broadcast a parody of Wayne's World on Aurora Cable 10, the actual home of the fictional show that began on Saturday Night Live. Fictional co-hosts Wayne and Garth were big hockey fans and lived in Aurora, near where the Steel play their home games at the Fox Valley Ice Arena. The broadcast, on Friday, January 27 at 10:30 PM, is part of a 25th anniversary celebration of Wayne's World. The team will also feature segments of their parody at a Wayne's World-themed game on Saturday, January 28.
The top team in the United States Hockey League (USHL) January power rankings, will "party on!" and celebrate the 25th anniversary of Wayne's World on Saturday, January 28 during their game at the Fox Valley Ice Arena. When the movie Wayne's World entered the pop-culture lexicon it also brought the town of Aurora into the national spotlight.
"Wayne and Garth are icons in the worlds of cable TV, music and hockey," explained Dan Lehv, Chicago Steel Hockey President. "Once we learned that there is an actual Cable 10, Aurora, Illinois, we couldn't not celebrate the 25th anniversary of Wayne's World."
The broadcast parody will include the top ten reasons the Steel will beat Bloomington, a dream sequence in which Wayne and Garth become Steel players, special guests like Steel mascot Rusty and commercial messages totally not paid for by sponsors.
The night of the game, fans are encouraged to come to the arena dressed as Wayne & Garth and the ex-cellent evening's festivities will include:

A pre-game performance by the School of Rock House Band
An A cappella performance of "Bohemian Rhapsody" by Acappellago
Wayne's World Trivia
Dreamweaver Smile Cam
Clips from the Chicago Steel Hockey Wayne's World episode
The Chicago Steel will help launch the "Party On! 25 Years of Wayne's World," a six-month-long celebration of the movie hosted by the Aurora Downtown, the City of Aurora, and the Aurora Area Convention and Visitors Bureau. On February 3, the event officially kicks off with a poster contest from 7 to 11 p.m. at If These Walls Could Talk located at 32 S Stolp Ave in Aurora. The celebration will feature about a dozen events from February 3 through July 4, 2017. Events include; a look-alike contest, an air guitar competition, movie screenings at Two Brothers' Brew N View and Paramount Theatre's Classic Movie Monday, a doughnut tasting, and more. For a complete listing of events, visit Aurora Downtown on Facebook or the events calendar at http://www.auroradowntown.org.
The Steel have been recognized for their creative and fun promotions including an arena-wide "Secret Santa" night in December, "You're STEEL The One" wedding vow renewal contest in January, and an upcoming "Blades of Steel Night" in February, celebrating the 30th Anniversary of the iconic arcade hockey game.
On Saturday, January 28, 2107, the Chicago Steel face off against the Bloomington Thunder at 7:05 PM at the Fox Valley Ice Arena located at 1996 S Kirk Rd in Geneva. The Steel recently finished December with a 6-1-0-2 record to hold their spot at the top of the league standings, racing for their spot in the 2017 Clark Cup Playoffs. Tickets start at just $10 and parking is free. For tickets or more information, call 855-51-STEEL, stop by the Box Office at Fox Valley Ice Arena or visit ChicagoSteelHockeyTeam.com.
About The Chicago Steel
The Chicago Steel are competing in their 17th season in the USHL and their second season playing at Fox Valley Ice Arena in Geneva, IL. Steel players are recruited from across the country and internationally, and are assigned a host family and advisor to arrange housing and education options while with the organization. Education and development as a player and individual is key to the Steel's success and has earned 185 players Division I scholarships, as well as 27 NHL Draft picks. The team represented the USHL and USA in the 2015 Junior Club World Cup defeating host team Russia to win the bronze medal in the eight-day tournament. Players, coaches, and mascot, Rusty, visit local schools and nonprofits to pass along their message of character, education, and teaching how to Live Strong As Steel. The Steel focus on providing family-friendly entertainment to the Fox Valley at affordable pricing. Follow them on Facebook, Twitter, and Instagram: @ChicagoSteel. Visit ChicagoSteelHockeyTeam.com for more information.
About The United States Hockey League
Headquartered in Chicago and founded in 1979, the USHL celebrates its 15th season as the nation's only Tier I junior hockey league. Players range from 16-20 years of age and are recruited from over 35 states and 9 countries to fill the rosters on their 17 teams nationwide. A record 37 players were chosen in the 2015 NHL Draft and more than 375 players on team rosters last season committed to NCAA Division I schools, further establishing the USHL as the world's foremost producer of junior hockey talent.