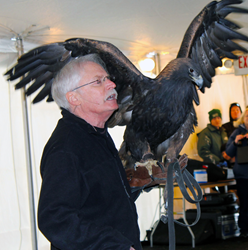 White Plains, New York (PRWEB) January 17, 2017
The New Year is a great time to recharge in Westchester County. Cozy up and enjoy a long holiday weekend at one of the county's exceptional hotels or come experience a unique outdoor event with the newly expanded Eaglefest at Croton-Point-Park.
"If you are looking for a special family event this February, look no further than EagleFest," said County Executive Robert P. Astorino. "The event offers a one-of-a-kind opportunity for visitors of all ages to explore majestic eagles in their natural environment."
Teatown's Annual EagleFest, a signature Hudson Valley event, soars into the Croton-Point-Park on Saturday, February 11th. Created by Teatown Lake Reservation, a leading regional environmental education center and nature preserve, EagleFest gives visitors of all ages a unique opportunity to view these magnificent birds both up close and in their natural environment. EagleFest will include a variety of programs and workshops geared for all ages. The newest feature of the festival this year is a screening of the critically-acclaimed documentary "The Eagle Huntress." Available to all EagleFest general admission ticket holders, the film is being shown in cooperation with Pace University's Environmental program. Visit http://www.teatown.org/events/eaglefest for more information.
Attendees coming from Manhattan or Poughkeepsie can take Metro-North trains to Croton-Harmon Train Station. Special EagleTrain cars will depart from Grand Central at 9:47 am and 9:50 am from Poughkeepsie. During the trip, on-board naturalists will point out various Hudson Valley birds to riders. Free shuttle buses will bring attendees to/from the Croton-Harmon Train Station to Croton Point Park. To participate in this event, guests must purchase a regular train ticket from Metro-North.
Stay, Renew and Recharge
Love is in the air! Enjoy a romantic weekend getaway in time for Valentine's Day at one of the region's inviting hotels.
The Ritz-Carlton Westchester offers a romance package in time for the holiday including rose petal turn down, bottle of champagne, chocolate covered strawberries, and Daily Hudson Valley Breakfast for two in the lounge or in-room dining. Visit http://www.ritzcarlton.com/en/hotels/new-york/westchester/offers for more.
Holiday Inn Express & Suites Peekskill is offering the Romance Package for Valentine's Day which includes accommodations, champagne and chocolate-covered strawberries. It is available for the entire month of February. More information is available at https://www.ihg.com/holidayinnexpress/hotels/us/en/peekskill/ftmcm/hoteldetail
Hampton Inn & Suites by Hilton Yonkers-Westchester is offering a romance package including a bottle of champagne, wine or sparkling cider, fresh flowers or single stemmed rose in a vase and a box of assorted chocolates. Visit http://hamptoninn3.hilton.com/en/hotels/new-york/hampton-inn-and-suites-yonkers-westchester-LGAYWHX/offers/index.htm for more details on this and all other packages.
Westchester in the Winter promises romance when you escape for an overnight getaway at Doral Arrowwood Resort. Treat yourselves to early check-in as well as champagne and chocolate covered strawberries delivered to your room upon arrival. Dine in the Atrium Restaurant and take in magnificent views of Doral's 114 surrounding acres of rolling hills. Save time for a massage or indulge in world-class designer shopping on nearby Greenwich Avenue or The Westchester. http://www.doralarrowwood.com/westchester_resort_packages/Westchester_Savings
For the latest events and happenings in Westchester, log onto http://www.visitwestchesterny.com, like us on Facebook (facebook.com/westchestercountytourism), follow us on Twitter @westchestertour or call 1-800-833-9282. To view the Westchester County Destination Guide, please visit http://bit.ly/2cCFErf
About Westchester County Tourism & Film
Tourism & Film is Westchester County's official destination marketing organization. Its mission is to generate economic benefits by enhancing the image and promoting Westchester County as a premier business and leisure destination in the Hudson Valley region. The Tourism & Film Office in Westchester County is a division within County Executive Robert P. Astorino's Office of Economic Development.