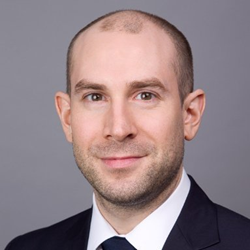 Cologne, Germany (PRWEB) January 19, 2017
cleverbridge, a provider of global subscription billing solutions, announces cleverbridge general counsel Dr. Timm Neu will present at the cologne IT summit_ 2017 to be held January 26 at the International Chamber of Commerce in Cologne, Germany. Dr. Neu will participate in the "Avoiding confusion with regards to the legal aspects of increasing digitalization" panel discussion from 12:00-1:30 p.m.
Joining Dr. Neu on the panel will be Dr. Fabian Schuster, lecturer and honorary professor for IT law at the University of Cologne, and moderator Patrick Ruppert, from Lawyal Rechtsanwälte. The panel will discuss topics such as digitalization and related regulation, aiming to provide a corporate perspective on these issues for non-lawyers. One of the major independent IT industry and management congresses in Germany, the cologne IT summit_ brings together representatives from politics, business and science to address the challenges and opportunities of innovation in an increasingly digital economy.
As general counsel of cleverbridge AG, Dr. Neu focuses on international IT/IP, business and contract law. He also leads strategic and corporate legal consulting, international negotiations, and the management of the company's Legal department. With cleverbridge's Legal team, he specifically ensures cleverbridge's compliance with multi-national regulatory requirements and consumer protection laws affecting ecommerce purchase processes, customer approvals and terms and conditions. Finally, Dr. Neu coordinates the legal aspects of cleverbridge's expansion and service diversification.
For more information on cologne IT summit_ 2017, visit http://www.cologne-it-summit.de. To learn more about cleverbridge, please contact inquiry(at)cleverbridge(dot)com or visit http://www.cleverbridge.com.
About cleverbridge
cleverbridge provides global subscription billing solutions that help companies build long-term customer relationships and grow recurring revenue streams. With its flexible, cloud-based billing and monetization platform, cleverbridge integrates seamlessly with client systems, simplifies subscription business models and delivers an optimized online customer experience. Leveraging cleverbridge expertise, technology and services, clients monetize products and services more effectively, rapidly expand their global subscriber base and maximize customer lifetime value. Headquartered in Cologne, Germany, cleverbridge has offices in Chicago, San Francisco and Tokyo. For more information, visit http://www.cleverbridge.com.