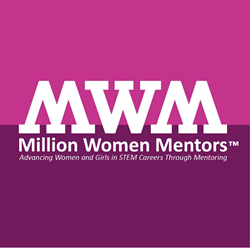 With this event, we hope not only to attract mentors, but also to inspire a confidence in girls who have the potential to be our nation's future STEM leaders." – Dr. Carole Cameron Inge, MWM-VA Co-Chair, Founder
Washington, DC (PRWEB) January 18, 2017
Million Women Mentors–Virginia (MWM-VA), an effort co-led by Dr. Carole Cameron Inge of the Institute for the Commercialization of Technology, Inc. and Jennifer Bisceglie, CEO of Interos, will participate in the Presidential Inauguration Leadership Summit Change Agent Fair at 11:15 a.m. on Thursday, January 19 at the EagleBank Arena in Fairfax, Virginia. Representatives of MWM-VA will meet with small groups of students until 12:45 p.m. to discuss their mission to support girls and women in STEM by providing one million STEM mentors.
Students attending the Change Agent Fair will participate in simulations consisting of six delegations, including Women and Global Leadership, and work toward finding solutions to pressing global challenges. The Fair is part of this years Presidential Inauguration Summit, a program designed to inspire and embolden ambitious students from across the country. In addition to the Change Agent Fair, Summit Delegates will witness the 58th Presidential Inauguration and attend speeches by world-renowned speakers.
"The Change Agent Fair offers Million Women Mentors–Virginia a unique opportunity to
educate students from across the country about our mission as an organization. With this event, we hope not only to attract mentors, but also to inspire a confidence in girls who have the potential to be our nation's future STEM leaders."
– Dr. Carole Cameron Inge, MWM-VA Co-Chair, Founder
The event is expected to attract over two-thousand middle school, high school, and college students, as well as educators and parents. Reporters and interested parties are encouraged to contact MWM-VA with any further questions. For more information regarding the Presidential Inauguration Leadership Summit, please visit http://www.envisionexperience.com.
To learn more on how you can become a mentor, or how to participate in Virginia or other state efforts with Million Women Mentors, please register online at http://www.MillionWomenMentors.org.
About Million Women Mentors: Million Women Mentors supports the engagement of one million Science, Technology, Engineering and Math (STEM) mentors (male and female) to increase the interest and confidence of girls and women to persist and succeed in STEM programs and careers. MWM is an initiative of STEMconnector in collaboration with over 60+ partners reaching over 30 million girls and women, 50+ corporate sponsors, and 39+ state leadership teams. For more information on MWM, please visit http://www.MillionWomenMentors.org.
About STEMconnector®: STEMconnector®, a Diversified Search company, is a consortium of companies, nonprofit associations and professional societies, STEM-related research & policy organizations, government entities, universities and academic institutions concerned with STEM education and the future of human capital in the United States. STEMconnector® is both a resource and a service, designed to link "all things STEM" through a comprehensive website and portfolio of products that connect national, state and local STEM entities. The STEMconnector® website contains profiles of STEM-related entities and details 'Who is Doing What' in STEM education throughout the world. For more information on STEMconnector®, please visit http://www.stemconnector.org.
###