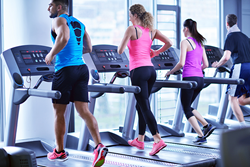 Dublin, Ohio (PRWEB) January 18, 2017
With New Year's Resolutions in full swing, there is a surge in consumers purchasing gym memberships and fitness equipment to help meet their goals. In fact, according to NBC News, there were over 62,776,240 searches for health related New Year's resolution goals heading into 2017. That's a fourteen percent increase from last year.
In order to keep up with our increasingly technology-driven society, manufacturers are rapidly adding new high-tech enhancements to treadmills, ellipticals and other fitness equipment.
Unlike your parents' stationary bike, today's fitness equipment is packed with features such as wireless internet, smartphone integration, heart rate monitoring, distance tracking and more. That's in addition to the traditional components like motors and belts. With so many new sensitive components, Safeware's data demonstrates that the likelihood of failure has increased significantly.
According to Safeware, the number of individuals whose units experienced mechanical and electrical failure increased by thirty-four percent from 2015 to 2016. Components that are likely to suffer from these failures include: console units, built in HD monitors and other electronic displays. Typically, the failure reported involves the unit not powering on, the display malfunctioning or showing unclear and distorted information.
One of Safeware's top partners in the fitness industry, 2nd Wind Exercise Equipment, shared their perspective on this trend. Store manager, Pete Weyenberg says, "Most equipment takes a pounding, from sweating on consoles and electronic components to the stress and impact of running on the treadmill or elliptical. Customers invest hundreds, sometimes thousands, of dollars in their equipment so they want to ensure that their gear stays in working order with no unexpected costs from repairs."
As new models of fitness equipment appear on the market with the latest technology, last year's treadmills quickly become outdated. That also means that repair parts become more difficult to find and costs for the repair work are going up. According to Safeware's historic claims data, the average cost per repair for screen or display damage is over $560. Other high-tech components such as heart rate monitors can be as expensive as $300 for repairs.
While demand for technology is rapidly growing, so are all the industries connected to it, including fitness equipment. It takes twenty two days to form a new habit; as consumers strive to keep up with their New Year's Resolutions, it is important that the technology driving their equipment is able to deliver the expected results.
About Safeware
Having pioneered the technology insurance industry in 1982, Safeware is now one of the most recognized names in product protection. Safeware's innovative approach to insurance and extended warranty solutions has propelled the company into multiple industries including education, corporate technology, fitness, furniture and appliances. By allowing partners to customize coverage based on their unique needs, Safeware provides best-in-class programs allowing customers to own their products with confidence.
Learn more about Safeware online at http://www.safeware.com or by calling 1.800.800.1492.