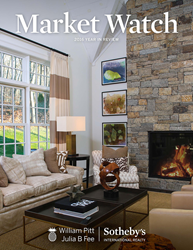 Fairfield and Litchfield Counties, Conn., Westchester County, N.Y., and Berkshires, Mass. (PRWEB) January 17, 2017
A report detailing annual 2016 market results in Fairfield and Litchfield Counties and the Shoreline in Connecticut, the Berkshires in Massachusetts, and Westchester County, New York, has just been released by William Pitt and Julia B. Fee Sotheby's International Realty, the company announced today.
The 2016 report found increases over 2015 in both unit sales and dollar volume in most of the market areas served by the firm, a trend that has been consistently observed each year since the recession started to wane.
In Westchester County, 2016 unit sales were 8% higher and dollar volume 6% higher than the calendar year of 2015, with the sales growth occurring in both the lower and upper counties. Southern Westchester experienced year over year growth in units of 14% and volume growth of 5%, while Northern Westchester had gains of 13% in units and 8% in volume. The Connecticut Shoreline market, encompassing New Haven, Middlesex and New London Counties, also concluded the year ahead of 2015, by 12% in units and 7% in volume. Litchfield County maintained steady sales through year's end, with an 8% increase in units and 9% increase in volume, and a noteworthy uptick in sales between $1 and $2 million. The Southern Berkshires ended the year 12% above 2015 in units and 8% in volume, and witnessed a late year burst in sales between $550,000 and $750,000, a higher end market for that area. Only Fairfield County's figures were more modest, largely resulting from the slower activity in southern county communities like New Canaan, Darien and Westport. While the county overall was close to flat year over year, with a 3% increase in units and 3% decrease in volume, the lower county was softer, and Northern Fairfield County was a robust marketplace with sales booming at all price points.
The report commented that the promising recent sales data is mirrored on the national scene, as existing home sales in November reached their highest level since February 2007, according to a National Association of Realtors report released in December. The report also discussed the Federal Reserve's quarter point December rate hike, only the second in a decade, which has caused mortgage rates to begin to rise with three additional increases expected in 2017. According to the Market Watch, purchasers who are concerned they will lose buying power as mortgage rates continue to creep up in the coming year are already feeling the urgency to become serious participants in the marketplace, with company agents claiming they are busy with buyers who are jumping off the sidelines and into the market in droves—an indication that 2017 is already off to a strong start.
"2016 was another exceptional year for real estate in our market areas. The fourth quarter in particular exceeded all expectations in most areas, not only with closings delivering healthy gains over the prior year, but also with a tremendous upswing in buyer activity," said Paul Breunich, President and Chief Executive Officer of William Pitt and Julia B. Fee Sotheby's International Realty. "Economic factors such as the recent rate hike, the Commerce Department's economic growth projections, the low unemployment rate and the high level of consumer confidence all paint a very positive outlook. I am very bullish on where the market is headed in 2017."
The 2016 Annual Market Watch is available for download on the firm's website, williampitt.com.
###
About William Pitt and Julia B. Fee Sotheby's International Realty
Founded in 1949, William Pitt and Julia B. Fee Sotheby's International Realty manages a $3.9-billion portfolio with more than 1,000 sales associates in 24 brokerages spanning Connecticut, Massachusetts, and Westchester County, New York. William Pitt and Julia B. Fee Sotheby's International Realty is the largest Sotheby's International Realty(R) affiliate globally and the 28th-largest real estate company by sales volume in the United States. A full-service real estate firm headquartered in Stamford, Connecticut, William Pitt and Julia B. Fee Sotheby's International Realty provides ancillary services including commercial services through its affiliation with Building and Land Technology, a second-generation development company based in Stamford, Connecticut; William Pitt Insurance Services; and an award-winning global relocation division. For more information, visit the website at williampitt.com.
Sotheby's International Realty's worldwide network includes approximately 19,000 sales associates located in approximately 850 offices throughout 65 countries and territories.