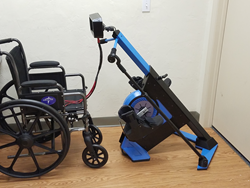 "FES is a very promising technology that can help many people with paralysis or muscle weakness," says MYOLYN co-founder and CEO Alan Hamlet, PhD.
Gainesville, FL (PRWEB) January 18, 2017
MYOLYN, which creates medical technology for people with muscle weakness and paralysis, today announced that it has submitted a 510(k) to the FDA, requesting clearance of the MyoCycle Home and the MyoCycle Pro – stationary bikes that utilize MYOLYN's patent-pending functional electrical stimulation (FES) technology.
The submission marks a major milestone for the technology startup. MYOLYN spun out from the University of Florida in 2013 and has now successfully completed development of its flagship medical device. This development was made possible by support from the University, the Florida Institute for the Commercialization of Public Research, and local angel investors.
"FES is a very promising technology that can help many people with paralysis or muscle weakness," says MYOLYN co-founder and CEO Alan Hamlet, PhD. "MYOLYN is innovating FES solutions to make this technology more widely available. The MyoCycle is an affordable, easy-to-use FES bike that enables therapeutic, load-bearing exercise despite even complete paralysis."
An FES bike is essentially a stationary exercise bike that someone who's paralyzed can use because it activates their muscles for them. The MyoCycle is intended for general rehabilitation for relaxing muscle spasms, preventing muscle atrophy, increasing blood circulation, maintaining or increasing range of motion, and muscle re-education following disease or injury. As a result, the MyoCycle is especially beneficial for people with spinal cord injury, stroke, multiple sclerosis, Parkinson's disease, and cerebral palsy, as well as people undergoing orthopedic rehabilitation following knee or hip surgery.
MYOLYN has used its unique experience in robotics and automation to develop a system that automatically customizes the FES for the individual patient, eliminating the need for costly setup and tuning by a trained specialist.
"The patent-pending algorithms we use automatically select the optimal stimulation parameters for the patient, making the MyoCycle not only effective, but extremely easy and intuitive to use," says Chief Technology Officer Matthew Bellman, PhD. "Our goal was to make this technology practical for use in the home for the first time, so we designed the MyoCycle from the ground up to be affordable and as easy-to-use as a regular exercise bike."
Both the MyoCycle Home and the MyoCycle Pro are being reviewed by the FDA.

The MyoCycle Pro, intended for clinical use, combines isokinetic cycling and FES into a single system that can increase clinic revenue while maximizing patient outcomes.
The MyoCycle Home is the most affordable, easiest-to-use FES bike ever made, enabling patients to take control of their health and get the therapy they need from the comfort of home.
About MYOLYN
MYOLYN's vision is to improve health and human performance by empowering people to move. Located in Gainesville, FL, MYOLYN was founded in 2013 by founders Alan Hamlet and Matthew Bellman, both of whom received their PhD's in robotics from the University of Florida. MYOLYN uses its unique expertise in automation to develop electrical stimulation devices that are innovative, affordable, and easy-to-use.