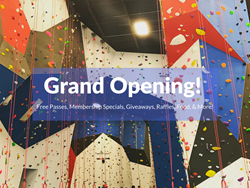 Melville, N.Y. (PRWEB) January 23, 2017
Prospective patrons in the Melville area looking for an experience that will challenge them both physically and mentally, do not have to look any further. The Gravity Vault Indoor Rock Climbing Gym​, will be hosting their Grand Opening Celebration​ Saturday, January 28th starting at 9 a.m.
With over 20,000 square feet of climbing wall, the facility will offer an enjoyable experience for climbers of all ages and skill levels. The Grand Opening event will include free climbing passes, membership specials, food, giveaways and more. 94.3 THE SHARK​​ will also be on site giving away prizes.
The community will be able to try out the gym with free day passes being offered before 12pm, a free Try-a-Climb for ages 5 and up from 9 a.m. to 12 noon, and Bounty Routes for more experienced climbers.
"We are excited to be opening Long Island's largest indoor climbing facility! We are thrilled to share our passion for climbing with a new, state of the art, ultra modern climbing gym to allow everyone from first time climbers to seasoned professionals a place to enjoy the sport! Please join us and be a part of our special Grand Opening as we help spread the exciting sport of rock climbing!" said owner Lucas Kovalcik.
The Gravity Vault Indoor Rock Gym​ has been serving the local community since 2005. Founded by Lucas Kovalcik and Tim Walsh, they built the first location in Upper Saddle River, New Jersey and grew the programming options to include memberships, private climbing sessions, birthday parties, camps, competitive climbing teams, belay classes and more. In 2013 The Gravity Vault Indoor Rock Gyms took the next step towards bringing rock climbing to local communities everywhere through franchising, opening its first franchisee owned and operated facility in Middletown, New Jersey. Continuing their efforts to bring the sport of rock climbing to local communities everywhere, The Gravity Vault is working to open facilities in states spanning the east coast.