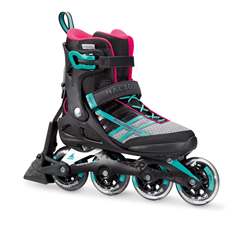 West Lebanon, NH (PRWEB) January 18, 2017
Rollerblade®, the worldwide leader in inline skating, announces the launch of the revolutionary Active Brake Technology (ABT), an innovative braking system that allows skaters of all levels to stop safely with more ease and stability.
Active Brake Technology addresses one of the biggest concerns of beginner and intermediate skaters – learning how to brake with more balance and control – while offering performance at the highest level for more advanced athletes. The cuff-activated brake gradually reduces speed and keeps all eight wheels on the ground as the skater slides the braking foot forward. This process enhances stability and balance while the height adjustable feature of ABT makes sure the skater has consistent braking power. The adjustment system is easy to use and requires no tools. For those with dominant left legs, the brake can be switched to the left skate.
"We are incredibly proud to unveil what we believe is a big, technological innovation in the inline skating category," said Stephen Charrier, co-president of Rollerblade. "Rollerblade's ABT Technology will create a safer, more enjoyable experience for skaters of any level."
ABT technology is featured on the Rollerblade Macroblade 84 ABT and Macroblade 80 ABT for both men and women. Macroblade skates are widely known for their incredible fit, comfort, and lateral support.
Macroblade 80 ABT (MSRP $169) and Macroblade 84 ABT (MSRP $199) will be available for purchase on February 1, 2017 at retailers nationwide.
For more information on Rollerblade and its groundbreaking new Active Brake Technology, please visit http://www.rollerblade.com/usa/.
###
Rollerblade® is an international leader in the inline skate industry and founder of one of the fastest growing sports, with more than 17.3 million participants worldwide. Headquartered locally in West Lebanon, NH, and internationally based in Giavera, Italy, Rollerblade is a top innovator in inline skates, accessories and gear with over 250 patented products. Today many athletes, fitness fanatics and thrill seekers enjoy the benefits of inline skating as it continues to grow as a lifestyle sport for all levels to experience. To learn more visit http://www.rollerblade.com, "like" Rollerblade on Facebook at http://www.facebook.com/RollerbladeUSA or follow the company on Twitter @GoRollerblade.