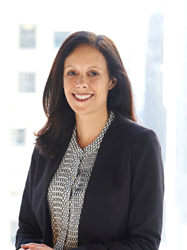 New York, NY (PRWEB) January 17, 2017
FirstService Residential, New York's leading residential property management company, announced the promotion of Christina Forbes to the position of senior vice president in the company's Property Management Division. Forbes will assume executive oversight for several teams of property management professionals within the organization that specialize in the management of cooperatives and condominiums throughout New York City.
"Christina has demonstrated the highest levels of customer service satisfaction in regards to financial, administrative and organizational efforts for her New York City clients," says Dan Wurtzel, president, FirstService Residential New York. "Her expertise, combined with her progressive vision, has earned her a steadfast reputation in the industry, as well as the trust of the board members under her care."
Forbes joined the company in 2009 as an onsite senior property manager at Lincoln Towers. Her outstanding performance and high standard of excellence earned her a promotion to managing director in 2012, and to vice president in 2014, before achieving her current position as senior vice president in 2017. "I'm thrilled to have this opportunity to expand my role at FirstService Residential. My time with the company has been one of tremendous personal and professional growth. I'm looking forward to sharing my knowledge and expertise, and helping others deliver the exceptional service FirstService Residential is known for," says Forbes.
Forbes possesses over two decades of experience in asset and property management. Her forté is her analysis of a property and its management operations, and the ability to maximize service levels while identifying areas requiring expense control.
About FirstService Residential
FirstService Residential is North America's largest manager of residential communities and the preferred partner of HOAs, community associations and strata corporations in the U.S. and Canada. FirstService Residential's managed communities include low-, mid- and high-rise condominiums and cooperatives, single-family homes, master-planned, lifestyle and active adult communities, and rental and commercial properties.
With an unmatched combination of deep industry experience, local market expertise and personalized attention, FirstService Residential delivers proven solutions and exceptional service that add value, enhance lifestyles and make a difference, every day, for every resident and community it manages. FirstService Residential is a subsidiary of FirstService Corporation, a North American leader in the property services sector. For more information, visit http://www.fsresidential.com.