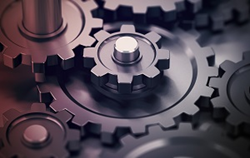 Boulder, Colo. (PRWEB) January 18, 2017
Enterprise Management Associates (EMA), a leading IT and data management research and consulting firm, today announced it will host a webinar titled "Responsible Rationalization: Reducing the Cost of IT Operations" featuring Steve Brasen, managing research director of enterprise mobile and endpoint management at EMA, and Gary Henderson, director at ASG Technologies.
While enterprise IT infrastructures are the key driver for the success of nearly every modern business, their costs for initial deployment and operational management can be astonishingly expensive. Costs related to the provisioning and maintenance of a complex IT ecosystem can grossly erode operational budgets and marginalize business successes and profitability. Faced with this reality, most organizations are pressured to reduce IT-related costs without diminishing service availability or performance.
Brasen and Henderson will discuss how rationalization practices can substantially reduce the cost of maintaining IT infrastructures while accelerating effectiveness and reliability, as well as cover:

Understanding rationalization and the core processes essential to improving returns on investment in IT
Reducing the size of a hardware and software footprint for a more streamlined operational environment
Eliminating "finger pointing" between solution providers to enable faster mean times to resolution (MTTR)
Simplifying administration to enable more response and effective IT support
Reducing application sprawl on large systems such as mainframes
The step-by-step processes for effectively introducing rationalization practices in your organization that will pragmatically align with production requirements and budget limitations.
The webinar is Thursday, January 26 at 2:00 p.m. Eastern. Those who wish to attend can register at: http://research.enterprisemanagement.com/responsible-rationalization-webinar-pr.html
About EMA
Founded in 1996, Enterprise Management Associates (EMA) is a leading industry analyst firm that specializes in providing deep insight across the full spectrum of IT and data management technologies. EMA analysts leverage a unique combination of practical experience, insight into industry best practices, and in-depth knowledge of current and planned vendor solutions to help its clients achieve their goals. Learn more about EMA research, analysis, and consulting services for enterprise line of business users, IT professionals and IT vendors at http://www.enterprisemanagement.com or blogs.enterprisemanagement.com.