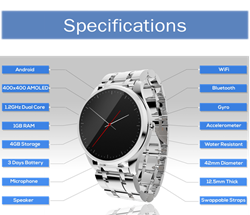 We've loaded the Cronovo with nearly every exercise-tracking and monitoring feature you can imagine into a sharp-looking smartwatch.
Warrington, United Kingdom (PRWEB) January 18, 2017
Crowdfunders from around the world have thrown their support behind the Cronovo Smartwatch, which provides more health-tracking features than any other time-accessory available on the market at an affordable price, boosting sales over the $150,000-mark – five-times its crowdfunding goal – on Kickstarter.
Health-conscience people, or those entering or starting an exercise regimen for the first time, have just over a week to purchase Cronovo at an early-bird discount of $99 during crowdfunding.
"We've loaded the Cronovo with nearly every exercise-tracking and monitoring feature you can imagine into a sharp-looking smartwatch, and the response from crowdfunders has been exceptional during our campaign," said Cronovo Co-Founder Darin Philip. "Cronovo offers one of the most economical ways to track your body's response to work-outs to help you reach your exercise goals."
Cronovo's features include:

Metabolism-rate tracking to show the rate at which the body is losing or gaining weight
Fitness rate tracking to show improvement over time
Real-time training intensity tracking, providing coaching to meet each exercise goal
Tracking effects of training
Stress tracking
Recovery tracking
Continuous heart rate monitoring
Heart rate variability tracking, which shows the unconscious system of your body which you cannot control
Exact heart rate reading (within 99.9 percent accuracy)
Animated exercises
Seven-minute workouts that provide coaching guidance to achieve a 'double-calorie burn' in minutes
Providing alert-notifications for friends and family in case of health emergencies including heart attacks or strokes
A speaker and a built-in microphone that allows the wearer to send voice commands and follow spoken instructions from Cronovo at the same time
With its unique VoFit App, Cronovo counts a person's steps and daily caloric intake and it can be easily programmed to track more detailed health data to create custom fitness programs. VoFit even provides a daily score that can help anyone achieve weight loss and body building goals.
Cronovo also offers voice-based, 'hands-free' cooking help in the kitchen featuring a recipe book with hundreds of recipes. Users can follow exact cooking steps while their hands are occupied measuring spices or cutting vegetables.
Powered by Android OS, Cronovo features circular UI and can be controlled with gestures or voice commands. Great connectivity is guaranteed through Wi-Fi, Bluetooth, IR Blaster and Cronovo Cloud.
Cronovo is water resistant and available four designs – metal silver, black and leather strap editions, and a limited-edition rose gold style – all with a sleek design that goes with any suit or outfit. Its power supply lasts up to three days, which is up to five-times longer than most smartwatches.
Recent research that compares Cronovo with Philips Pagewriter Trim III, an FDA-approved electrocardiogram (EKG)-recording tool widely used for years in medical care environments for cardiac conditions and diagnosis, found there was no significant difference between the two either clinically and statistically in their recording capabilities.
To pre-order Cronovo at a special introductory price during the final days of crowdfunding, please visit the Cronovo Campaign Page on Kickstarter.