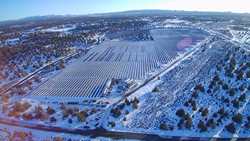 The projects will generate enough energy annually to power roughly 2,000 homes.
Charlotte, N.C. (PRWEB) January 18, 2017
Charlotte-based solar developer Pine Gate Renewables announced today it has achieved commercial operation for two 14 MW solar facilities—Darlington Solar in Darlington County, South Carolina and Collier Solar in Deschutes County, Oregon. The projects, both financed by Pine Gate partners Live Oak Bank and Sol Systems, will generate enough energy annually to power roughly 2,000 homes. This clean energy will be delivered to existing regional energy grid systems via power purchase agreements with area utilities.
The two solar facilities, placed into service at the end of 2016, are part of more than 1 gigawatt in portfolio projects that are currently in development. Pine Gate Renewables has secured off-taker and financing commitments for 250 MW in projects throughout S.C. and Ore., all of which will be operational by the end of this year.
"Pine Gate Renewables has assembled a team of accomplished professionals and, in a short amount of time, has created an impressive portfolio of projects that will deliver clean, consistent, low-cost electricity to American consumers and businesses for years to come", said Dan Yonkin, Senior Director of Structured Finance for Sol Systems.
The utility off-taker for the Collier Solar project is PacifiCorp, and the utility off-taker for the Darlington Solar project is Duke Energy Progress.
For more information about Pine Gate Renewables and its ever-expanding portfolio of solar projects, please visit http://www.pgrenewables.com.
---
About Pine Gate Renewables
Pine Gate Renewables is a U.S. developer, owner and operator of utility-scale solar farms. Pine Gate Renewables has a 1,000 MW development pipeline and plans to operate over 250 MW of solar farms by the end of 2017. Based in Charlotte, N.C., with an office in Jacksonville Beach, Fla., Pine Gate Renewables' mission of providing locally generated, renewable solar power for communities nationwide is centered on utility-scale sites from 2 – 100+ MW. The company specializes in land origination, project development, project financing and asset management. Pine Gate Renewables is committed to the broad transformation of our nation's energy model by making community-based solar an option for everyone.