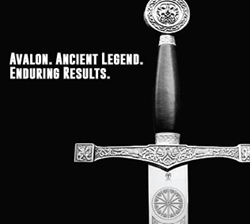 "Courage is the enforcing virtue, the one that makes possible all the other virtues common to exceptional leaders: honesty, integrity, confidence, compassion and humility." John McCain
Washington, DC (PRWEB) March 08, 2017
With its official launch slated for the Spring of 2017, The Avalon Institute, founded by USAF General John E. Michel (Ret.) and Matchbox Restaurants Founder Perry Jobe Smith is a 21st century leadership development firm that strives to empower organizations and individuals to connect at a deeper level and take command of their own growth.
Central to this mission is the Avalon Institute's "Roundtable Leadership Model™," a combination of people-centric organizing models, coaching and education. Additional support and understanding is provided by cutting-edge neuroleadership assessments that show individuals and teams their true strengths as well as blind spots. The Institute's proprietary methodology has proven remarkably successful in numerous engagements, including integrated programs with US Special Forces Command and Joint Special Operations University in Tampa, FL in addition to contracted engagements with the US Army, US Air Force, and numerous strategic partners in the private and government sectors.
This spring, The Avalon Institute is proud to announce "Beyond Labels," an ongoing series of workshops and engagements geared towards inspiring a multi-generational workforce. Focused predominantly on leveraging Millennials and their unique strengths as a generation, "Beyond Labels" is a guided co-creation space for business leaders seeking to enhance employee retention, engagement, and productivity. Facilitating the conversation are Avalon's accomplished Millennial team members Chris Lum and Erin Matyus, who have combined their leadership experiences in business and athletics to support participants in reinvigorating their respective workplaces. For more information about Avalon's Millennial engagement opportunities and services - including webinars, in-person workshops, and strategic support - please refer to The Avalon Institute's website under "Services."
The Avalon Institute is informed by the organization's deep seeded principles that emphasize values over rules, dynamic discourse, clarity of purpose, innovation and intentional leadership. The team of leaders takes on complex issues with the spirit of co-creation and the perseverance to overcome all challenges, and is always focused on delivering leadership values to all levels of an organization while supporting and standing with clients for the entire journey.
For more information on the Avalon Institute, and for details on applying for Roundtable Leadership™ membership, visit http://www.avalonleadership.com or via direct email.
For additional opportunities, visit the Avalon Institute's sister entity Veteran Enabled Training and Technology Services (VETS) at http://www.vet2s.com. VETS is a service-disabled, veteran-owned small business positioned to work with federal, state, and local governments, as well as business entities of any size