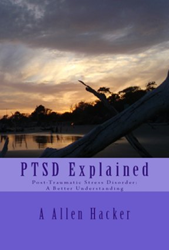 Cure rather than cope!
Spokane, WA (PRWEB) January 18, 2017
Independent researcher Allen Hacker says he has deciphered Post Traumatic Stress disorder and developed a unique counseling technique that resolves it. Working first to make small businesses more successful by coaching leaders to defuse their self-sabotage, and later to clarify the self-limiting tendencies of people whose careers and lives had gone off the rails, Mr. Hacker has completed work he began during the Vietnam War in a quest to understand and encode what happened when he unexpectedly facilitated the remission of a former soldier's TBI (Traumatic Brain Injury) amnesia.
"We were having a great conversation about what it is like to have amnesia, me asking increasingly detailed questions and him answering," Hacker recalls. "After maybe an hour he suddenly remembered everything!" Hacker says he was stunned, and right then made it his life's purpose to understand what had happened so that it might be applied to other serious debilitating conditions.
Focusing on trauma and later PTSD, both military and civilian, was a logical way to go. Now, he says, he has an approach that has worked in virtually every case to significantly reduce or even terminate PTSD in as few as ten hours of counseling over a few weeks. Now he's writing the book.
"This has tremendous implications for people struggling with life's increasingly traumatic challenges," Hacker says. "It could also make a huge difference for the VA and taxpayers." He points out that some forty people commit suicide in the US every day. Given that half of those suicides are veterans, he may be right.
Mr. Hacker agrees with the opinion of Lt Colonel Daniel Gade (West Point, The National Council on Disability) that the VA desperately needs something that actually works. Unfortunately, Hacker worries that the VA is backed into a procedural corner by medical protocols that may not apply. "They have neither an explanation of the cause nor a cure for PTSD, but nonetheless diagnose veterans based on a loose collection of symptoms, Hacker explains. "Veterans are put into a semi-permanent trap comprising vague treatments, unproven psychotropic drugs, and just enough of a pension to keep them from becoming productive again.
With President-elect Donald Trump's vow to fix the VA, and nominee David Shulkin looking to privatize regular medical services and focus the VA on the more combat-related challenges like loss of limbs, TBI and PTSD, Hacker looks forward to an increase in openness to alternatives that will coincide with the publication of his book
"What has been passing for current therapy," Hacker points out, "costs the Dept of Veterans Affairs billions every year and usually manages only to make victims feel better temporarily." He concludes, "We could cut that growing unfunded liability by maybe 95 percent if we were to cure rather than cope with PTSD." That would free up billions for vocational rehabilitation and treatment of actual physical injuries..
Mr. Hacker is himself a disabled veteran and cancer survivor. Self-funded to date with the help of family and friends, Hacker's accomplishment is a concrete reminder that, "If you want something new, you must look at the problem in a new way."
The GoFundMe crowdfunding page is at https://www.gofundme.com/PTSDExplained/