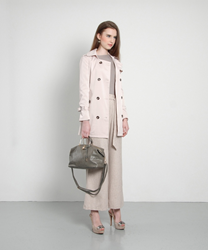 "Her Velvet Vase provides a woman with the ideal expression of her own style."
New York, NY (PRWEB) January 20, 2017
Her Velvet Vase unveils its "Beau Monde" Spring Summer 2017 Collection of dresses, separates and outerwear to the US market. The launch as well as the core design concept of the new collection underscores the brand's signature of timeless and sophisticated elegance and a cosmopolitan flair that makes it equally at home in any of the world's capitals from New York and Paris to London and Shanghai. Each piece is crafted from fine quality fabrics cut in sleek silhouettes for comfort, movement and precise fit. The collection is rendered in classic neutrals and delicate tones including pale pink, pale grey, nude, beige, toffee, peach, black, white, navy, green, and jade.
Mag Chan, creative director of Her Velvet Vase, explains the latest collection is "a celebration of a refined life, reflecting the subtle radiance of nature as it awakens after a long winter." From everyday career wear to casual weekends and travel, these are pieces that spark inspiration and empowerment in all that a woman embodies; the strong and sophisticated Madison pantsuit, casual Paddington linen shirt dress cinched at the waist, relaxed-fit Midas midi dress complete with subtle side slit to reveal an inner shorter skirt, beach-perfect Marrakech faux wrap eyelet blouse, romantic Moulin kimono top with ruffles, flirty Crepe wrap blouse, timeless Wellington top coat, elegant Prive belted dress with asymmetric overlay and pleated mini skirt, statement Earl Grey blouse with flared sleeves, delicate Yves v-neck caplet blouse, feminine Tuscany dress with illusion neckline and banded mesh skirt, tailored double-breasted Harper coat and timeless calf-length Sage tie-waist palazzo pants.
About HER VELVET VASE
Established in 2007 by co-founders and sisters Clare and Mag Chan, Her Velvet Vase offers a distinctly refined glamour that has earned it well-deserved recognition as the fashion must-have among stylish women worldwide. It was conceived as an alternative to the impersonal big brand lines and carefully curated to encompass a range of tops, skirts, trousers, dresses, outerwear, bags and accessories that seamlessly fit into the diverse aspects of an independent woman's lifestyle. "Her Velvet Vase provides a woman with the ideal expression of her own style," says co-founder and creative director Mag Chan. "Whether she's a young fashion influencer or a corporate executive, a homemaker or a jetsetter, any woman can discover a part of herself and facets of her life in our collections," she adds. Her Velvet Vase, sizes xs to xl, retails from about $40 to $100 for apparel and $20 to $70 for bags and accessories, and available online at http://www.hervelvetvase.com