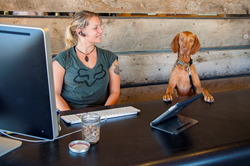 "We believe a work-life balance bolsters the communities and environments we choose to live, work, recreate and thrive in. Bravo to our pack members, Ruffwear's employees, for being the difference we want to see in the world."
Bend, OR (PRWEB) January 19, 2017
It started as a request from a friend. While trying to give her dog Moqui a drink during a mountain bike ride, Patrick Kruse's friend Liz emptied half of her water bottle into a plastic bag and held it while the Rhodesian Ridgeback took a few slurps. Moqui then walked away panting, and Liz was left holding the bag—she couldn't set it down without losing the water and didn't want to dump what was left back into her water bottle. "You need to do something about this," Liz said, challenging Patrick to develop a solution.
Twenty-two years later, Ruffwear is leading the outdoor performance dog gear category it created and has become one of the top businesses to work for in the US. Ranked #76 in Outside's Best Places to Work for 2016, as Patrick Kruse, Founder/R&D Director explains, it's about passion, staying true to your core values and appreciating the bond between humans and their dogs.
"Ruffwear is honored to be one of the progressive companies selected for Outside Magazine's 100 Best Places to Work," said Kruse. "We believe a work-life balance bolsters the communities and environments we choose to live, work, recreate and thrive in. Bravo to our pack members, Ruffwear's employees, for being the difference we want to see in the world. And thanks to Outside Magazine and its effort to shed light on the benefits that happiness brings to the success of people, and in turn, the success of business."
As one employee explained, "I feel as though this company is really an extension of my family. I truly care for and respect everyone that I work with. We work hard, but we have fun, as well. Plus, we take our dogs to work - which I personally love. How can you not be happy with your fuzzy friend sitting next to you."
RUFFWEAR BRAND VALUES
Woven throughout Ruffwear's Values Statements, core components show the important role of the dog at Ruffwear:

We believe dogs make us whole and that our relationship with our dogs is shaped by the adventure we share—dogs are our trail-mates, our biking buddies, our working partners and our constant companions.
We believe a happy dog is a dog outside; we find joy in sharing outdoor adventures with our companions, and sharing those adventures with our community.
We believe in protecting wild places where dogs and people play.
We believe in and support the critical role of working dogs in our society.
Along with recognizing the value that dogs bring to the Ruffwear brand, the company prioritizes time outside for employees and their dogs. With paid days off to test gear, a portion of race registration fees covered, and active involvement in organizations that protect open spaces for dogs and humans to enjoy and those that connect adoptable dogs with outdoor-loving humans, Ruffwear shows that humans and dogs are both integral to the company's success.
DOGS AT WORK
It's no surprise that dogs are central to the Ruffwear brand. And each day, a crew shows up to the office to provide assistance with product and fit testing and to contribute to a positive, low-stress work environment.
"On most days, we have more dogs than people in our office; dogs of all shapes and sizes," said Ruffwear founder, Patrick Kruse. "This allows us to stay focused on building gear from the dogs' perspective while also keeping humans' needs in mind."
"At least twice a week, someone from the product team comes by and tries something on
Riggins or 'borrows' him for a special project," said Allison Miles, Community & Events Specialist. "I think he likes to feel useful when he comes to the office!"
For more info on the dogs who work at Ruffwear each day, please visit the Ruffwear blog.
ABOUT RUFFWEAR
Ruffwear's mission is to build performance dog gear to enhance and inspire exploration for outdoor adventurers and their human companions. Ruffwear Performance Dog Gear™ combines technology, quality, fit, function, and safety to facilitate its belief that every dog is an explorer.
Ruffwear is committed to enhancing the lives of all dogs and their human companions through relationships with Best Friends Animal Society and The Conservation Alliance. Through its Ruff Adventure Dog adoption program with Best Friends, Ruffwear covers the cost of adoption fees and travel expenses for newly adopted dogs from their Kanab, Utah Sanctuary, as well as a new Ruffwear collar and leash to go home with. To date, 50 dogs have been placed in their forever homes through the program. By protecting wild places for their habitat and recreation values through membership in The Conservation Alliance, Ruffwear works to ensure there are plenty of wild, open spaces for dogs and their humans to enjoy together.
Based in Bend, Oregon, Ruffwear sells their products through specialty pet and outdoor retailers as well as at http://www.ruffwear.com. Ruffwear can also be found on Facebook, Twitter and Instagram. For more info on this and other Ruffwear Business Unusual stories, please contact Kate Ketschek, kate(at)revolutionhousemedia(dot)com or 603-828-1050.