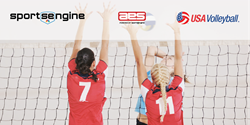 In addition to the AES team, we now have access to the resources of SportsEngine to iterate on our products and refine an already stellar experience.
(PRWEB) January 18, 2017
MINNEAPOLIS, Minn. ― Advanced Event Systems (AES), a SportsEngine company, and USA Volleyball have agreed to extend and build upon their partnership as AES becomes the "Official Tournament Registration and Scheduling Supplier of USA Volleyball" through Dec. 31, 2018.
As part of the agreement, USA Volleyball will exclusively use AES tournament registration and scheduling software for each of its owned indoor events. In return, AES will create, design and maintain website registration pages for USAV events and provide its tournament registration system and tournament scheduler system for the term of the agreement.
"USA Volleyball is proud to extend our partnership with AES for another two years," USA Volleyball Secretary General Kerry Klostermann said. "The software they provide allows our events to operate smoothly and efficiently and provide a quality experience for all of our participants."
Over the past 15 years, USA Volleyball and AES have worked together to provide a seamless and friction-free experience for tournament staff, athletes and parents alike. This close collaboration resulted in the AES Event and Scheduling Management Suite of tools for volleyball.
"We are very excited to extend our partnership with USA Volleyball," AES Director of Volleyball Brad Preston said. "In addition to the AES team, we now have access to the resources of SportsEngine to iterate on our products and refine an already stellar experience."
AES provides a wealth of proprietary solutions providing a platform for more effective and streamlined event management. Its advanced infrastructure and software modules empower seamless online registration, hotel management, scheduling services and results tracking.
"Prior to working with AES and now SportsEngine, the methods of collecting registrations and scheduling tournaments was antiquated and inefficient," USA Volleyball Senior Director Tom Pingel said. "AES's toolset helped show us a better way to manage our events. No one at USA Volleyball or any other tournament staff throughout the country could imagine going back to the days before AES. The partnership continues to provide exceptional value and saves us hundreds of hours per tournament."
AES makes it easy to initiate, schedule and host a tournament. The online registration experience is extremely intuitive - even for first-time administrators new to organizing events online. And its advanced web-based solution provides unparalleled ease and simplicity for end users to register for an event, activity or tournament.
# # #
ABOUT SPORTSENGINE
Helping the world play smarter and live more, Sports is the leading provider of sport life management web software and mobile applications for youth, amateur and professional sports. Powering more than 500,000 sports teams, leagues, clubs and associations, SportsEngine features a complete suite of easy-to-use tools that help sports organizations manage, connect and communicate with a diverse range of stakeholders, including athletes, parents, administrators, coaches, referees, scouts, volunteers, fans, journalists and sponsors. Founded in 2008, SportsEngine is based in Minneapolis, Minnesota. For more information, please visit http://www.sportngin.com; like the company on Facebook at http://www.facebook.com/sportsengine; or follow SportsEngine on Twitter at @SportsEngine.
ABOUT USA VOLLEYBALL
Founded in 1928, USA Volleyball is a Colorado incorporated non-profit organization recognized by the United States Olympic Committee (USOC) and the Federation International de Volleyball (FIVB) as the National Governing Body for the disciplines of beach volleyball, indoor volleyball and sitting volleyball in the United States. USA Volleyball has over 325,000 registered members, 12,000 teams and 5,300 clubs nationwide. With an annual budget in excess of $31 million dollars, USA Volleyball supports the USA men's and women's senior national team programs for beach, indoor and sitting volleyball; youth and junior national teams, national championship events, coaching education, certification programs and grassroots development across all disciplines. USA Volleyball has a rich tradition of success as evidenced by winning an Olympic medal in every Olympic Games since 1984, three Paralympic medals since 2004 and capturing numerous World Cup, World Championship and Continental Championship titles. USA Volleyball is committed to and works toward opportunity for all to participate. It is an advocate for all Americans endeavoring to assure universal access to opportunities at all levels of the game. For more information on USA Volleyball, visit usavolleyball.org.