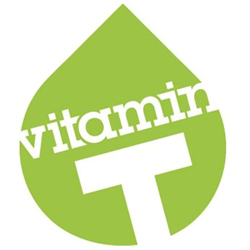 Los Angeles, CA (PRWEB) January 19, 2017
This is Vitamin T's seventh year partnering with An Event Apart, and the agency is thrilled about the 2017 incarnation of this revered industry conference that provides a platform for digital creative professionals to learn from the most talented web developers, designers, and strategists in their fields.
This year's An Event Apart conferences will take place in Seattle, Boston, Washington, D.C., Chicago, San Francisco, and Denver. According to Vitamin T President Susie Hall, "Vitamin T staff attend these events every year to stay on top of emerging trends in design and development, and to help our customers do the same. Our partnership with AEA has helped us to learn and grow, and we're honored to be long-standing partners with the talented leaders who are setting the standards and changing the industry."
Vitamin T staff will be onsite at every event to answer questions from talent and clients, give away super cool swag, and raffle off two complete A Book Apart libraries.
The events will feature multi-disciplinary topics that are geared for UX professionals, developers, web designers, marketers, copywriters, project managers, and other creative industry pros. The planners of An Event Apart invite industry experts to share their knowledge at the conferences, which are ultimately geared to help creative professionals hone their skills, network with other industry pros, and find out about upcoming trends and innovative technologies that are important to the field.
For the year's first conference in Seattle, Vitamin T will also sponsor a moderated panel on Monday, April 3rd on the "State of Web Design". Hosted by Jeremy Osborn, Academic Director of Aquent Gymnasium, it will also feature Jeffrey Zeldman along with other speakers from the conference.
Details about specific conference speakers are ongoing, so interested parties can stay tuned for announcements by following An Event Apart on Twitter or by periodically checking individual event details on their website.
Vitamin T is also offering a partnership discount to interested industry enthusiasts. When you sign up for any 2017 An Event Apart Conference or A Day Apart conference pass, you can save $100 when you supply code AEAVT17.
For more information, please contact Vitamin T by visiting https://vitamintalent.com/contact-us/.
About Vitamin T
Vitamin T is the talent agency for digital creatives. We personally meet each of our candidates face-to-face and conduct hands-on assessments and full portfolio reviews to ensure our talent's skills are best in class. We provide subsidized medical, dental, and vision, as well as a 401(k) plan—not to mention free online training through Aquent Gymnasium. And because we're local, you'll always have highly qualified candidates as fast as humanly possible.
Contact Details:
Tim Donnelly, Media Contact
Phone: 323 475 7372
Email: tdonnelly(at)vitamintalent(dot)com
Address:
Vitamin T
5670 Wilshire Blvd, Suite 1000
Los Angeles, CA 90036
Web: https://vitamintalent.com/
Source: Vitamin T
###