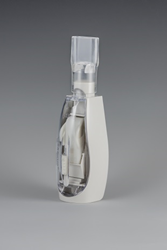 The study showed the superiority of the vPEP across 5 tidal volumes, which indicates superior secretion clearance ability even for patients with low tidal volume
Farmville, NC (PRWEB) January 20, 2017
D R Burton Healthcare Products LLC, makers of the vPEP® Oscillating Positive Expiratory Pressure (OPEP) device, was featured in a study indicating superior performance against competitive products in secretion clearance. The article by Doug Pursley, MEd, RRT-ACCS, FAARC, "Analysis of Three Oscillating Positive Expiratory Pressure Devices During Simulated Breathing" was published in the winter issue of the journal of Respiratory Therapy.
The study utilized a human lung simulator to analyze maximum expiratory flow during OPEP therapy by comparing flow-volume loops generated by the D R Burton vPEP device and two other OPEP products. The author focused on peak expiratory flow rather than pressure amplitude, because just as in a forced cough, maximum expiratory flow is a major factor in improving secretion. The study revealed the D R Burton vPEP provided superior expiratory flow bias, the difference between peak expiratory and peak inspiratory flow. This difference in flow rate is a key indicator of OPEP effectiveness in secretion clearance. The greater the flow rate difference, the more effective the secretion clearance, and vice versa.
D R Burton is the first company to bring innovative, new technology to OPEP therapy in recent years. "The vPEP system represents a breakthrough in airway secretion clearance therapy by providing superior expiratory flow bias, hence more effective secretion clearance. Expiratory flow bias is a paradigm shift for OPEP devices, and an ideal indicator because it involves the movement of secretions out of the airway," says Dennis Cook, BSRT, RRT, and CEO of D R Burton. Furthermore, "the study showed the superiority of the vPEP across 5 tidal volumes, which indicates superior secretion clearance ability even for patients with low tidal volume," adds Cook. "The vPEP is also an easy device to clean for patients with only four parts, making it easier to help reduce risk of infection," he says.
For more information about this important clinical research and the D R Burton family of OPEP products, clinicians can contact their local D R Burton Region Manager at (252) 228-7038.
REFERENCE: Pursley, D.M., "Analysis of three Oscillating Positive Expiratory Pressure Devices During Simulated Breathing," Respiratory Therapy 2017; Volume 12, No. 1, 52-56.
About D R Burton Healthcare Products LLC
D R Burton Healthcare Products LLC, innovators in medical devices, was founded by clinicians with deep expertise in respiratory care. Together we design, develop and market medical device products that allow patients to heal faster and provide value to our partners and consumers. Our unique clinical perspective drives our unwavering commitment to provide clinicians and their patients with a world class user experience. For more information, please visit http://www.drburtonhpi.com