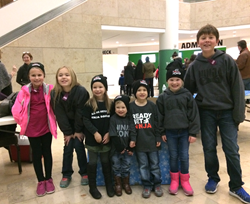 "When you see a child truly happy after they've done something kind for someone else - that's pretty amazing." - Casey Wright, CEO, NinjaZone
Carmel, IN (PRWEB) January 23, 2017
Athletes Making the World a Better Place…One Ninja at a Time
It may be January, but that doesn't mean the generosity and selflessness of the holiday season isn't still alive and well. Ninjas across the country are going out of their way to do good for others. You heard us right…Ninjas.
Ninjas enrolled in NinjaZone programs across the country have been tasked with spreading kindness, and have spent the last several months doing just that. NinjaZone is an American-Ninja-Warrior-meets-Scouting inspired athletic program that is a combination of gymnastics, parkour, obstacle training, and freestyle movement, changing how 3-11 year olds move.
During the most recent #NinjasGiveBack social campaign, NinjaZone Corporate challenged their 240+ clubs to take the lessons of kindness beyond the gym walls, and into the community. The campaign received entries from North Carolina to California, and everywhere in between. The message? Children as young as 3 going out of their way to make the world a better place.
Children all over the country participated, and continue to participate, in the #NinjaGiveBack campaign, contributing photos of everything from food drives, to volunteer work, to donating their own piggy bank money to others in need. With over 20,000 Ninjas enrolled in the program, #NinjasGiveBack became a beacon of goodness for many.
These acts of giving and kindness aren't isolated ones. In the gym, NinjaZone Trainers teach lessons in character development alongside those of physical development, in an attempt to develop the whole child through this innovative new sport. It's commonplace to have conversations about perseverance, bullying, personal responsibility, and making healthy choices, followed up by a flip off a wall or a vault over a mat.
About NinjaZone
NinjaZone is the leading Ninja Sport athletic provider, and official member of Ninja Sports International. At the core of the program, NinjaZone believes in the power of building children up, from the inside out. Their mental and physical strength is built through a sport that uses techniques to leverage kids' fire and enthusiasm into an activity they truly love. The character pillars of the program are just as important, teaching manners, respect, responsibility, and work ethic, to name a few.
For more information about NinjaZone, visit their website http://theninjazone.com. If you wish to participate in the kindness and community give-back campaign, simply use the hashtag #NinjasGiveBack to join the movement.