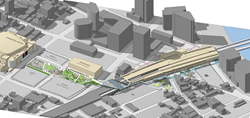 Mulberry Commons will allow us to put financial power behind our commitment to Newark's neighborhoods and communities, and will inspire and empower Newarkers for decades to come.
Newark, NJ (PRWEB) January 18, 2017
Today, Mayor Ras J. Baraka, and representatives from Newark Community Economic Development Corporation, Newark Downtown District, Edison Properties, J&L Companies, Inc. and Prudential Center unveiled Mulberry Commons, the new name for the downtown Newark area currently referred to as Triangle Park. Mulberry Commons, which represents a more than $100-million financial investment, will be transformed into public, open space – Mulberry Commons Park – as well as retail establishments, restaurants and commercial spaces, all while better connecting the Ironbound and downtown neighborhoods to Newark Penn Station. The award-winning architectural firm Sage & Coombe will lead the design efforts for six of the project's 22 acres.
Decades in the making, this transformative project is expected to bring vast economic benefit to the entire City. The Mulberry Commons team and the City anticipate new jobs and commercial opportunity, a tax boost, secured commitments from developers for future Newark-based projects, a new hub of commerce through the adaptive reuse of a warehouse along McCarter Highway and more. The targeted completion date for the park is late Summer 2018.
"The development of Mulberry Commons and the Mulberry Commons Park will be a major asset for the City of Newark," said Mayor Ras J. Baraka. "This project represents another step towards showing the best of what our City has to offer. The 22-acre site will not only enhance our tax base and boost our economy, but it will also bring jobs, commerce, housing and green space for all Newarkers to enjoy. The collaboration between the multiple stakeholders that have come together for this endeavor symbolizes a new era for Newark. Mulberry Commons will allow us to put financial power behind our commitment to Newark's neighborhoods and communities, and will inspire and empower Newarkers for decades to come."
The City of Newark will benefit from an anticipated economic impact in excess of $500 million, generated from Mulberry Commons' planned commercial, retail and open, public spaces. In addition to the current $100 million+ in private investment, the initiative will also receive $10 million in public funding.
"We are excited about the revitalization taking place in Newark. Today we continue to develop our downtown and Ironbound neighborhoods with Mulberry Commons, which includes Newark's newest park," said Aisha Glover, acting president and CEO of the Newark Community Economic Development Corporation. "Public parks, accessible to all Newarkers and City visitors, not only serve as a place for recreation and refuge, but help drive local economic development through job creation and retail and commercial opportunities. This development effort was truly a collaborative one and we thank all of our partners for making this project possible."
"The Mulberry Commons project is the culmination of a planning process that began in 2005. Under Mayor Baraka's leadership, the City, the Newark Community EDC and private developers are executing the vision for the park, a pedestrian bridge linking the Ironbound and downtown, as well as the redevelopment of the parcels adjacent to the Prudential Center," said Jerry Gottesman, chairman of Edison Properties, which currently owns a majority of the redevelopment sites within Mulberry Commons. "At Edison Properties, we're excited to continue working with the Mayor's office and the City to move our new 'Ironside Newark' office and retail project forward to further the successful transformation of downtown Newark."
"Thank you to Mayor Baraka for his vision for a better Newark and for spearheading the collaboration on projects like Mulberry Commons that continue to energize our collective aspirations for this great city," said Hugh Weber, president of the New Jersey Devils & Prudential Center. "As Prudential Center prepares to celebrate 10 years in Newark this fall, we could not be more proud to be a part of the dramatic change that continues to take place around us."
"Mulberry Commons Park will be a highly programmed and impeccably maintained open space, providing a sense of comfort and security in the heart of the downtown," explained Anthony McMillan, CEO of the Newark Downtown District, which will provide programming and maintenance of the park. "We look forward to giving residents, visitors, and commuters a clean, green, social environment that will essentially function as a both a shared backyard and a destination – a place to meet with friends, relax, and enjoy great events."
"The Mayor, his team and the City Council should be commended for their efforts in getting this project off the ground," said Jose Lopez, principal of J&L Companies, Inc. "The creation of the park, bridge connection, and the developments that will follow will usher in a new era of growth and revitalization for the area. With close to 50 years in the City of Newark, J&L views itself as a part of the community and is proud to have worked alongside the other stakeholders to make this project a reality."
Architectural renderings and high-res photos from the event can be found here:
https://www.dropbox.com/sh/4fpjwroafr7uk1l/AAB2vsUfLh6uscn0THiTbqmua?dl=0
-NEWARK-
Newark Economic & Housing Development
The mission of the City's department of Economic and Housing Development is to create economic opportunity for Newark residents and enhance the vibrancy of the City. To this end, the department seeks to position Newark to take advantage of its unique assets, including its strategic location, a diverse and underutilized workforce, a large amount of developable land, concentration of corporate and business service firms, several major universities, and a wealth of arts and cultural assets.
Newark Community EDC
The Newark Community Economic Development Corporation (Newark Community EDC) is the primary economic development catalyst for the State of New Jersey's largest city, Newark. It is organized to retain, attract and grow businesses, enhance small and minority business capacity, and spur real estate development.
The Newark Downtown District
The Newark Downtown District (NDD), Newark's special improvement district of the central business area, is a privately funded 501 (c) (3) non-profit organization, dedicated to revitalizing downtown Newark by improving the economic viability of the central business district. The NDD also works hard to enhance the quality of life for those who live, labor, and leisure in Newark, by providing supplemental cleaning services, safety services, marketing, events, streetscape improvement, and open space maintenance and programming.