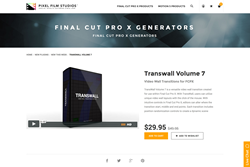 TransWall Volume 7 is a versatile video wall transition which will allow editors to create dynamic scenes in Final Cut Pro X
Aliso Viejo, California (PRWEB) January 24, 2017
"TransWall Volume 7 is a versatile video wall transition which will allow editors to create dynamic scenes in Final Cut Pro X," said Christina Austin - CEO of Pixel Film Studios.
TransWall Volume 7 allows Final Cut Pro X users to easily display and animate between 25 different pieces of media. Each drop zone can display any photo or video in FCPX. Seamlessly transition between any clips without having to set a single keyframe.
TransWall Volume 7 includes 4 different transitions. Each preset is made to stay onscreen longer or shorter. Some transition from one drop zone to the next with no time between clips. While other presets allow for more time between transitions. This allows for viewers to linger on the middle animation a bit longer. Editors can further adjust the timing by manually adjusting the transitions in the Final Cut Pro X timeline.
TransWall Volume 7 allows Final Cut Pro X users to adjust any midpoint animation with a few simple controls. Easily adjust the midpoint position and even the amount of randomized motion. These controls make it easy to zoom into a specific drop zone.
Each preset in TransWall Volume 7 includes an easy to read drop zone guide. These guides provide Final Cut Pro X users an easy way to see where each media clip will be positioned in the 25 drop zone wall. Once the guide is no longer needed simply click on the guides checkbox to turn them off.
Established in 2006, Aliso Viejo, California-based Pixel Film Studios is an innovative developer of visual effects tools for the post-production and broadcast community. Their products are integrated with popular non-linear editing and compositing products from Apple FCPX. Apple, the Apple logo, Mac OS X, and Macintosh are registered trademarks of Apple Inc. in the U.S. and/or other countries. All other trademarks and trade names are the property of their respective owners.