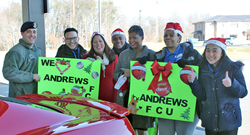 Suitland, Maryland (PRWEB) January 18, 2017
Throughout the holiday season, Andrews Federal Credit Union went about spreading good cheer in the communities it serves. Of the many random acts of kindness performed, the charity on display at Joint Base Andrews recently takes the cake.
Andrews Federal's Chief Retail Officer, Oma George, along with all of the Credit Union's DC, Maryland and Virginia branch managers, filled the gas tanks of randomly selected service members. The Credit Union filled up 70 cars, totaling more than $2,140.
"This was, by far, one of the best initiatives ever," said George. "The genuine surprise and appreciation of our gesture will forever be etched in my memory. Our troops do more than many of us will ever know. It was an honor to give back in such a tangible way."
About Andrews Federal Credit Union
Andrews Federal Credit Union was founded in 1948 to serve the needs of military and civilian personnel by providing a vast array of financial products and services. With over $1.3 billion in assets, Andrews Federal has grown to serve more than 119,000 members in the District of Columbia, Joint Base Andrews (MD), Springfield, Virginia (VA), Joint Base McGuire-Dix-Lakehurst (NJ), and military installations in central Germany, Belgium, and the Netherlands. In addition, the Credit Union serves as a financial partner with many select employee groups in Maryland, the District of Columbia, Virginia and New Jersey.