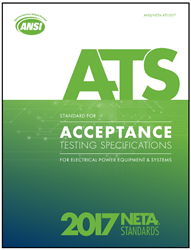 Portage, Michigan (PRWEB) January 19, 2017
NETA— InterNational Electrical Testing Association — will release the ANSI/NETA ATS-2017 Standard for Acceptance Testing Specifications on February 27, 2017, at PowerTest. Preorders are being taken now.
The 2017 edition of the standard supersedes the 2013 edition of the ANSI/NETA ATS. These specifications assure tested electrical equipment and systems are operational, within applicable standards and manufacturer's tolerances, and installed in accordance with design specifications. The specifications cover the suggested field tests and inspections that are available to assess the suitability for initial energization and final acceptance of electrical power equipment and systems.
Preorder by calling the NETA Office 888-300-6382 (NETA).
NETA is responsible for developing and maintaining the ANSI/NETA ATS, MTS, ECS, and ETT standards for testing electrical power equipment and systems. The ANSI/NETA ATS assists in the pre-energization inspection and startup of power equipment and systems. Electrical testing firms, architects, engineers, equipment owners, inspection authorities, and others should reference this document when inspecting power equipment after it is installed in the field.
Equipment addressed in the 2017 edition:

Switchgear
Circuit breakers
Capacitors and reactors
Emergency systems
Transformers
Protective relays
Regulating apparatus
Cables
Rotating machinery
Grounding systems
Switches
Motors
Batteries
And many others …
ABOUT NETA
NETA is an ANSI Accredited Standards Developing Organization that creates and maintains standards for electrical maintenance and acceptance testing for electrical power equipment and systems, as well as a standard that addresses the certification of electrical testing technicians. NETA is an association of leading electrical testing companies comprised of visionaries committed to advancing the industry standards for power system installation and maintenance to ensure the highest level of reliability and safety.