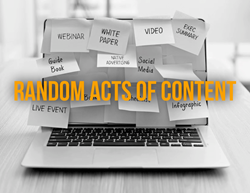 This is a level of strategic and creative support not seen in our industry before and we're delighted to field such a talented team.
Portland, ME (PRWEB) January 19, 2017
HIMSS Media has launched the Media Lab to deliver "breakthrough" content strategies to help clients crack the code on content marketing to healthcare technology audiences. Anchored by the Center for Content Analytics, the Media Lab applies a scientific approach to better align clients' content needs with distinct, data-supported Health IT buyer personas.
"We're leveraging the HIMSS database of over one million health and technology experts as our "laboratory," said Senior Director of Content Analytics, Frank Cutitta. "This enables us to identify the emotional and business triggers that drive an audience segment's information needs, and that's really the key to understanding buying intent."
The HIMSS Media Lab uses these audience insights to shape the content being created and disseminated within the HIMSS Media platform, and beyond — whether it's developing digital media products like webinars and videos, or producing custom-built face-to-face events.
"Many healthcare IT vendors are struggling," said Media Lab Founder and VP of Marketing Solutions, Betsy Kominsky. "Developing a comprehensive content marketing strategy is not easy. Too often, marketers are resorting to 'random acts of content' in an attempt to get marketing content into the market. Given that HIMSS Media has the largest audience in the industry and we know what information they consume, we're in a unique position to help our clients break through with better content."
The HIMSS Media Lab is organized into four teams:
The Center Content Analytics — A research think tank focused on discovering the emotional, business and topical drivers of purchase decisions.
Custom Content Team — Develops "enriched" content based on the research findings.
Design Team — Delivers agency-grade graphic design to visualize content.
Audience Analysis — Deploys, monitors and optimizes engagement programs within the HIMSS universe — or beyond, then delivers captured leads.
"This is a level of strategic and creative support not seen in our industry before and we're delighted to field such a talented team," said EVP of HIMSS Media, John Whelan. "The Media Lab and the Analytics Center will help clients truly leverage HIMSS' unique audience insights and industry passion to drive their marketing success."
ABOUT HIMSS MEDIA
HIMSS Media is the fastest growing B2B media group focused exclusively on healthcare and technology markets. Through its suite of market-leading brands, such as Healthcare IT News, Healthcare Finance and MobiHealthNews, HIMSS Media delivers news, analysis and must-have information to an audience of senior healthcare and technology influencers. HIMSS Media is also the leading producer of important live events, such as the Privacy & Security Forum, Pop Health Forum, Revenue Cycle Solutions Summit and Big Data and Healthcare Analytics Forum.
ABOUT HIMSS
HIMSS is a global voice, advisor and thought leader of health transformation through health IT with a unique breadth and depth of expertise and capabilities to improve the quality, safety, and efficiency of health, healthcare and care outcomes. HIMSS designs and leverages key data assets, predictive models and tools to advise global leaders, stakeholders and influencers of best practices in health IT, so they have the right information at the point of decision.
Through its health IT network of over 1 million experts, over 200 knowledge exchanges and collaborations, including 60,000-plus members, HIMSS drives innovative, forward thinking around best uses of technology in support of better connected care, improved population health and low cost of care.
For more information, visit himssmedialab.com or call 1-207-791-8725.