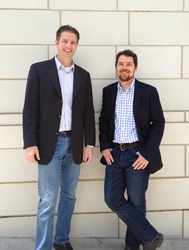 The new name is a great representation of what we do and who we are – it's a name that is built to last.
Asheville, NC (PRWEB) January 19, 2017
Asheville-based Krull & Company recently announced their socially and environmentally responsible investment management firm will continue to grow with a new name: Earth Equity Advisors. The company is also now an independent Registered Investment Advisory (RIA) firm.
"We are excited to transition to both the new RIA and the Earth Equity name," says Pete Krull, CEO and founder. "The new name is a great representation of what we do and who we are – it's a name that is built to last."
Earth Equity has experienced significant expansion and year over year growth since Krull launched the business as Krull & Company in 2004. In 2015, the firm hired key staff with an eye on continuing top-of-industry care and attention to their national clientele. Until 2017, Krull & Company had operated under Registered Investment Advisory firm, Minerva Planning Group.
"Over the last six years, we have been grateful to work with Micah Porter and Minerva Planning Group in Atlanta as our RIA," Krull says. "But we felt the time had come to break-out on our own and grow independently."
The Krull & Company team began the intense process of planning the new RIA and the transition in early 2016. This included reviewing custodians, software, investment research, compliance and other integral business services. "The process was exciting because we were basically starting from the ground up and we could choose the best offerings to provide the best services to our future clients." Krull said. "We wanted to make the transition as smooth as possible for those clients as well."
"These are separate but complementary advancements, forming our own RIA gives us more control over internal operations which allows us to provide better service to our clients," says Neill Yelverton, Chief Operating Officer and Financial Advisor. "The rebranding process was an opportunity to highlight the firm's focus on values and impact."
For the visual brand, Earth Equity's team hired award-winning branding firm Atlas Branding. Atlas Branding, based in Asheville, who serves a regional clientele and is known for their process-led design and sustainable brand creation. Both companies worked together through extensive assessments, design rounds, and market research to strike upon a visual identity that would be both deeply meaningful and provocative.
Earth Equity will continue offering all of Krull & Company's suite of services, with a focus on values-aligned investing and financial planning, including its signature fossil-fuel-free portfolios, Conscious-k business retirement plans, and customized options to help non-profits and churches divest their holdings from fossil fuels. The firm works with individuals, trusts, retirement accounts and plans, non-profits and churches.
##
Earth Equity Advisors is a leading socially and environmentally responsible investment management and financial planning firm. Since 2004, the firm has been helping its clients align their investments with their values. In 2013, the firm was certified as a B Corporation. Earth Equity offers strategic financial planning for individuals, businesses and trusts, offering fossil-fuel-free portfolios as well as customized retirement plans. For more information, visit: http://www.earthequityadvisors.com.