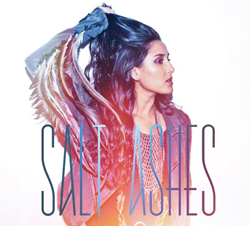 New York, NY (PRWEB) January 19, 2017
Emerging UK electronic singer-songwriter Salt Ashes has released the brooding music video for "Save It," which is the lead single from her self-titled debut album that was released in July 2016. The "Save It" music video is an abstract and artistic piece of work that displays intense passion, tension, and defiance, which the song was intended to evoke. The video, directed by Salt Ashes and Ian Coulson, premiered on world-renowned music publication Billboard on Tuesday, January 17, 2017.
When speaking with Billboard, Salt Ashes described the meaning behind "Save It" and the inspiration for the video, "I wanted to create an abstract and artistic piece of work that mixed darkness with beauty and sexuality with rebellion. The song is about fighting for a love that others don't approve of, so aside from wanting to portray the obvious intense passion, there's a lot of tension and defiance within the song that I wanted to come across."
The video was shot in three separate locations in two cities; the "darkness" is portrayed visually within the video's séance sequence. "The idea behind the video was to contrast scenes of a ritual and a séance, to symbolize others trying to expel our love for each other, with darker, faster-paced scenes of unbinding passion and rebellion against those people," Salt Ashes states.
Salt Ashes' extraordinary lead single ("Save It") has received rave reviews from UK's discovery site, Record of the Day ("Now comes this brilliant on-trend banger with one hell of a chorus and everything required to be an instant worldwide smash. Calvin Harris would probably kill for this tune"), as well as US tastemakers Idolator ("Salt Ashes has whipped up a firecracker with her new single.") Since its release, "Save It" has charted on Billboard Magazine's Dance Club Chart, Music Week's Club Charts, including the Upfront Club Chart Top 40 and Commercial Pop Top 30, and Kings of Spins Top 20 Chart. With a 90's club scene vibe "Save It" is a breath of fresh air for electronic pop.
Watch Salt Ashes' "Save It" music video on YouTube or Vevo.
Salt Ashes self-titled debut album is now available for purchase in record stores nationwide, on Amazon, iTunes, Bandcamp, Google Play, and in the Radikal Records web-store. It is also available for streaming on Spotify.
About Radikal Records:
Established in 1990, and based just outside of NYC, Radikal Records is one of the United States' leading independent record labels. In business for more than 25 years, they are focused on marketing, promoting, and distributing artists – not only to audiences in the USA, but also on a global basis to partners world-wide. Artists included on their roster over the years include: Kristian Nairn, DJs From Mars, Tony Moran, Salt Ashes, 2 Unlimited, N-Trance, Zombie Nation, ATB, Yello, Scooter, Schiller, Blank & Jones, Cosmic Gate, Sinead O'Connor, Ayah Marar, and many others. For more information, visit: http://www.radikal.com