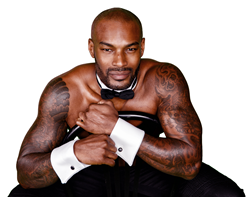 Performing with the guys from Chippendales in front of sold-out houses at the Rio was one of the most fun times I've had in my career.
(PRWEB) January 19, 2017
Chippendales® has announced the return of international supermodel, fashion icon and actor, Tyson Beckford, but this time as the show's first long-term celebrity guest star in residency. After breaking box office records during his limited engagement in 2015, Beckford returns to the award-winning #1 male revue at Rio All-Suite Hotel & Casino in Las Vegas beginning March 30, 2017.
"We are thrilled to bring Tyson Beckford back," says Kevin Denberg, Managing Partner, Chippendales. "He was an obvious choice when considering talent for a residency. Tyson has the star-power, charisma, and sex appeal to complement and enhance our existing production."
The critics agree that Tyson was the one the girls wanted… During his brief stint in 2015, the Las Vegas Sun commented, "Fans of Beckford will not leave the show disappointed, as he not only flexes his buff bod throughout the adult male revue, but also bares his backside in a solo act with a female member of the audience…Beckford fits like a glove in Chippendales."
"Performing with the guys from Chippendales in front of sold-out houses at the Rio was one of the most fun times I've had in my career," said Beckford. "I love Vegas and I love women so when the Chippendales brass approached me about coming back for an extended run, I was like ummm…YES! I can't wait get back on that stage!"
In November 2016, Chippendales was honored for the fifth consecutive year as the "Best Male Revue" at the prestigious Best of Las Vegas! Awards. The show succeeds in bringing every fantasy to life in an intimate, immersive environment that is perfect for any Girls Night Out. Whether looking to celebrate their bestie's bachelorette party in Las Vegas, their big birthday bash or just a have wild night, Chippendales provides the perfect backdrop to let loose and have fun in Las Vegas.
About Tyson Beckford:
Born in New York, Tyson lived in Jamaica until the age of seven and was destined, by name and person, to help give birth to and become synonymous with the term "male supermodel" from the moment his image was first captured by a photographer's lens in 1993. His arrival on the fashion scene coincided with the era that brought male models to the forefront of advertising and stifled the notion that "real men" and fashion did not exist on the same plane. Tyson's modeling career took off when he appeared in the Fall 1994, Polo Sport campaign shot by Bruce Weber. He soon landed an exclusive contract with Ralph Lauren apparel, which subsequently lasted five years and also spent three years as the spokesmodel for Polo Sport Fragrances. The resulting campaigns heralded a new direction for the Ralph Lauren/Polo Sport brand and created an international following of Tyson fans. His admirers around the world have helped raise Tyson's image to that of a brand unto itself as indicated by the sales volume of his annual calendar. He has appeared on covers and in countless editorials for Details, GQ, Essence, The Face, L'uomo Vogue, and The New York Times Magazine, among many others. Tyson was named one of People Magazine's "50 Most Beautiful People"; "Best Male Model" at the inaugural VH-1 Fashion and Music Awards; "Outstanding Male Model of the Year" at the fashion industry's Michael Awards; and, People Magazine also named him "Sexiest Male Model." He has starred in a number of music videos including 50 Cent's chart topping "21 Questions," and the Grammy Award-winning songs "Toxic" by Britney Spears and "Unbreak My Heart" by Toni Braxton. Tyson has also appeared on many television programs including "America's Next Top Model" with Tyra Banks, "Hollywood Squares," ABC's "My Wife and Kids," and he hosted the reality series "Make Me A Supermodel" on BRAVO. Tyson's film credits include "Into the Blue," "Zoolander," "Biker Boyz" and "Kings of the Evening." In 2008 he was featured in and produced the movie "Hotel California," directed by Geo Santini and, he recently co-starred in "Addicted." Having progressed from fashion model to fashion icon, the worldwide recognition his career has brought him belies the fact that there's more to Tyson than meets the eye. International success has taught him "to be humble and not to rush things" while his experience has also steered him towards "a life that is more spiritual and calm". Now Tyson makes his home in Florida and, when he finds time, he enjoys working on his cars and motorcycles.
About Chippendales:
Named "the most-wanted men in Vegas!" by ET's, The Insider, Chippendales captures the perfect balance of sex appeal and tasteful teasing, eliciting waves of screams from their excited audience. This high energy, fully choreographed, interactive show features some of the most physically elite men in the world who playfully dance and sing their way into the hearts of birthday girls, bachelorettes and girlfriends who just want to have fun. In November 2016, for the fifth consecutive year, Chippendales was named the "Best Male Revue" for the Las Vegas Review Journal's prestigious "Best of Las Vegas Awards." Annually, the Men of Chippendales will be seen by almost two million people worldwide. The cast, a very exclusive fraternity of only 20 members, is split across two productions – one based in Las Vegas at the Rio All-Suite Hotel & Casino and the other, currently selling out venues around on their world tour. As icons of American Pop Culture, The Chippendales recently celebrated their 35th Anniversary as a brand and in 2017 will celebrate 15 years at Rio All-Suite Hotel & Casino. They've been featured on numerous national television shows, including the Emmy Award-winning CBS series, The Amazing Race, The Ellen DeGeneres Show (where TV legend Betty White received a special surprise performance), and The Real Housewives of Beverly Hills (giving Lisa Vanderpump a night she will never forget). Previous celebrity guest hosts featured in the Las Vegas production include Dancing with the Stars winner Nyle DiMarco, "Beverly Hills 90210" and "Sharknado" star Ian Ziering, and Joey Lawrence, among others.
Chippendales, one of the world's most recognized brand names, is the premier provider of entertainment for women. The Company produces Broadway-style shows worldwide and licenses its intellectual property for select consumer products ranging from apparel and accessories to slot machines and video games. The company also operates Chippendales.com, an on-line lifestyle and entertainment destination for women. Chippendales® was established in 1979 and has headquarters in New York, with offices in Las Vegas and London. For additional information visit http://www.Chippendales.com; find us on Facebook, Twitter and Instagram @Chippendales #Chippendales.
Rio All-Suite Hotel & Casino
Rio All-Suite Hotel & Casino, home of the World Series of Poker, offers guests a unique all-suite hotel experience. Complete with 2,522 all-suite hotel rooms – including the Samba suites and the luxurious Palazzo Villas with a private entrance – the property overlooks the Las Vegas Strip and sits one block west of the famed boulevard. A variety of entertainment options at the resort include headliners Penn & Teller and the world-famous Chippendales. Additionally, Rio Las Vegas is home to family-friendly attractions such as the VooDoo Zip Line, an adrenaline-rushing thrill ride that offers a 360-degree panorama of the famous Strip from 490 feet above the ground, as well as KISS by Monster Mini Golf. The off-Strip resort features a diverse array of dining and nightlife experiences including the new Guy Fieri's El Burro Borracho, VooDoo Steak, Wine Cellar & Tasting Room, Hash House A Go Go, KJ Dim Sum & Seafood, iBar, VooDoo Beach and VooDoo Rooftop Nightclub, which offers panoramic views of The Strip. Just a short drive from Rio Las Vegas, Rio Secco Golf Club – recognized by USA Today as one of the "Top 10 Golf Destinations in the World" – is an 18-hole championship course designed by famed architect Rees Jones and home to the Butch Harmon School of Golf. For more information, please visit riolasvegas.com or the Caesars Entertainment Las Vegas media room. Find Rio All-Suite Hotel & Casino on Facebook and follow on Twitter and Instagram.
Chippendales Performance Schedule at Rio All-Suite Hotel & Casino:
Chippendales performs nightly at 8:30 p.m., with additional shows on Thursday (beginning March 16), Friday and Saturday at 10:30 p.m. Tyson Beckford's Chippendales residency begins Thursday, March 30, 2017 (Thursday through Sunday night performances only). Tickets range from $54.95 to $79.95 + tax and fees (18+) and can be purchased by calling (702) 777-7776 or by visiting http://www.Chippendales.com.