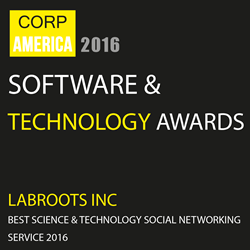 Yorba Linda, Ca (PRWEB) January 18, 2017
LabRoots, the leading provider of interactive virtual events for tech innovators, engineers, and scientists from around the world, was today awarded the "Best Science & Technology Social Networking Service 2016" by Corporate American News. The awards program is based entirely on merit and decided upon by a dedicated team of researchers and analysts.
The 2016 Software & Technology Awards, now in its second year, recognizes the best of the best in a wide variety of industries, from the music to legal industries, web development and support systems providers and beyond considered for these awards. It features deserving winners from across the US, showcasing the hard work and commitment of the many businesses, departments and individuals across this market who are not only keeping their clients at the top of their game, but also driving innovation and, potentially, changing the way we do business for the better.
"We are honored to be recognized for services we offer to those in the scientific, medical and research field," said Greg Cruikshank, CEO of LabRoots. "We are constantly listening to our users for feedback on ways to improve and offer more, ultimately making a premier online destination for scientific collaboration. I am proud of what the team has done and what the platform has become"
As an online platform dedicated to the scientific community, LabRoots proudly boasts a highly-engaged audience of more than 1.7 million registered members. Along with trending news on research findings and scientific discoveries, LabRoots provides continuing education credits through its webinars and virtual events.
With its series of webinars, virtual events and customized virtual event platform, LabRoots has secured strategic partnerships with the industry's cutting edge companies, producing more than 1,500 educational webcast in 2016 alone. To learn more about LabRoots, its platform and virtual events, visit: LabRoots.com.
For additional details on the Corporate American News 2016 Software & Technology Awards and all of the companies recognized, visit http://www.corporateamerica-news.com.
ABOUT LABROOTS
LabRoots is the leading scientific social networking website and producer of educational virtual events and webinars. Contributing to the advancement of science through content sharing capabilities, LabRoots is a powerful advocate in amplifying global networks and communities. Founded in 2008, LabRoots emphasizes digital innovation in scientific collaboration and learning, and is a primary source for current scientific news, webinars, virtual conferences, and more. LabRoots has grown into the world's largest series of virtual events within the Life Sciences and Clinical Diagnostics community.