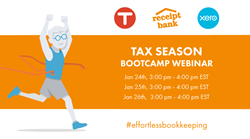 Rather than shy away from change during tax season, we want to give accountants and bookkeepers actionable steps to make positive changes to their business.
Washington, DC (PRWEB) January 23, 2017
Many accounting professionals consider Tax Season as a time to "survive". Tax Season can be characterized as long hours, tight deadlines and interpreting complex tax codes. The bootcamp is designed to show accounting professionals that Tax Season can be a tremendous opportunity to grow their firm, better service their clients, and restore some degree of work-life balance for their team.
The Tax Season Bootcamp does not address changes in the tax code, rather, the curriculum has been developed to focus on helping practitioners take control of their business. Industry experts from Receipt Bank, TSheets, and Xero will lead attendees through sessions centered on practice management, technology implementation, and driving internal efficiency.
"Rather than shy away from change during tax season, we want to give accountants and bookkeepers actionable steps to make positive changes to their business," says Damien Greathead, Vice President of Receipt Bank North America. "Between Receipt Bank, TSheets, and Xero we have an enormous amount of experience with helping firms reap the benefits of cloud accounting and the bootcamp is designed to share that knowledge and experience."
TSheets kicks off the bootcamp series with '4 Steps to Making 2017 Your Most Profitable Year with Client Accounting Services.' Xero Ambassador and owner of Accountingprose, Cristina Garza will lead the webinar on Wednesday which will take attendees through the process of converting their clients from desktop software to the cloud. The final session hosted by Receipt Bank will help firm owners build their firm's revenue (in six easy steps).
"Tax season offers a unique opportunity for firms to strengthen their relationships with their clients. It's also the perfect time to discuss any new services the firm has begun to offer within the past year — services that will enable the firm to become an even more valuable resource for their clients," Kelly Bistriceanu, TSheets' Accountant Program Director, explained.
The bootcamp starts on Tuesday, January 24th, and continues Wednesday and Thursday. Each webinar is 60 minutes and takes place at 3pm EST. Registration is free and eligible for CPE credits, via CPAacademy.org.
Xero is beautiful, easy-­to-use online accounting software for small businesses and their advisors. The company has over 862,000 subscribers in more than 180 countries. Xero seamlessly integrates with over 500 apps, and was ranked No. 1 by Forbes as the World's Most Innovative Growth Company in 2014 and 2015.
Receipt Bank provides award-winning bookkeeping automation software for accountants, bookkeepers and small businesses. Over 4,000 accounting and bookkeeping firms around the world already use it to automate data extraction and data entry. Founded in 2010 by Michael Wood and Alexis Prenn, Receipt Bank now has six offices worldwide. Receipt Bank integrates with Xero and has been awarded Xero Add-on of the Year 2012 – 2015.
TSheets is the leading employee time tracking and scheduling software for small business owners and accountants alike. With customers in more than 100 countries across the globe, TSheets saves business owners up to eight percent on gross payroll costs each year, just by eliminating the manual and cumbersome payroll process. Named Sleeter's "Awesome App" for three years running, "Innovative Company of the Year," and "Deloitte Technology Fast 500," TSheets has garnered national and international attention for its cutting edge technology.